Gold and Silver Surge After Germany Clings to Gold
On Monday, gold (NYSEARCA:GLD) futures for December delivery gained $35 to settle at $1,791.10 per ounce, while silver (NYSEARCA:SLV) futures jumped 74 cents to settle at $34.82.
Investing Insights: The Euro Mess Brings Out the Best in Gold.
Gold continues to rise as European debt worries linger.  On Monday, gold and silver both climbed higher as the true sentiment about gold was revealed by Germany. The European economic powerhouse rejected proposals by France, Britain, and the US to have German gold reserves used as collateral for the Eurozone bailout fund.  Germany Economy Minister Philipp Roesler said, "German gold reserves must remain untouchable."
There was speculation over the weekend at the G20 summit that German gold may be sold in order to boost the European bailout fund.  However, the Bundesbank and Mr. Seibert, spokesman for Merkel, ruled out the idea of Germany parting ways with their gold reserves.  Mr. Seibert explained, "Germany's gold and foreign exchange reserves, administered by the Bundesbank, were not at any point up for discussion at the G20 summit Cannes."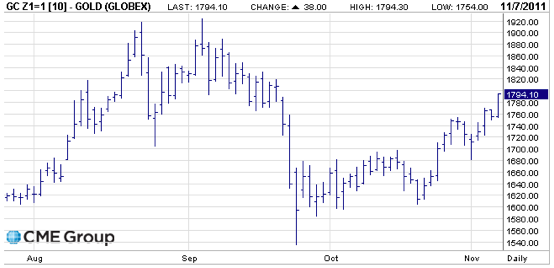 Gold miners (NYSEARCA:GDX) such as Barrick Gold (NYSE:ABX), AngloGold (NYSE:AU), and Yamana Gold (NYSE:AUY) climbed about 2% higher in afternoon trading.  Shares of Coeur d' Alene (NYSE:CDE) surged more than 8% after reporting record third quarter profits, as gold and silver sales more than doubled on increased production and bullion prices.  First Majestic Silver (NYSE:AG), Fortuna Silver (FSM), and Hecla Mining (NYSE:HL) also increased more than 3% before the close.
Despite a pullback in gold, China (NYSE:FXI) continues to import the safe-haven.  The Financial Times reports, " Data from the Hong Kong government showed that China imported a record 56.9 tonnes in September, a sixfold increase from 2010."
Investing Insights: How Long Will Gold Miners Lag Bullion Prices?