Gold Breaks $1,650 While Silver Miners Scream Higher
On Thursday, gold (NYSE:GLD) futures for December delivery climbed $11.60 higher to settle at $1,653.20 per ounce, while silver (NYSE:SLV) futures surged $1.65 to settle at $32 per ounce.
German Chancellor Angela Merkel, reiterated that governments should consider boosting European bank's financial cushions as the debt crisis continues to remain unresolved.  The ECB decided to leave rates unchanged, while the Bank of England expanded its asset purchase program to £275 billion.  The BOE also announced that it expects inflation to rise above 5% next month.  Precious metals (NYSE:DBP) jumped on the news and sent gold and silver equities higher.
Investing Insights: Is Newmont Mining a Refuge for Investors?
Gold miners (NYSE:GDX) such as Yamana Gold (NYSE:AUY) and Barrick Gold (NYSE:ABX) climbed 3% higher during trading.  Freeport-McMoRan (NYSE:FCX) continued its rally from yesterday and touched $35 today.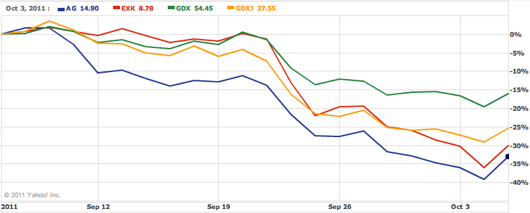 As the chart above shows, silver miners (NYSE:SIL) such as First Majestic Silver (NYSE:AG) and Endeavour Silver (NYSE:EXK) tend to experience steeper declines in a selloff.  However, on rebounds such as today, silver miners can outperform other investments by a large margin, including gold.  First Majestic Silver and Endeavour Silver both screamed 7% higher durning the afternoon hours.
If you would like to receive more professional analysis on these silver miners and other precious metal investments, we invite you to try our premium service free for 14 days.