Gold Breaks $1800, But Settles Under This Key Psychological Mark
On Tuesday, after reaching $1,804 per ounce, gold futures for December delivery settled at $1,799.20.  "The daily is headlines from Europe, and short-term profit taking, which keeps gold's progression higher in check," explained Jeff Wright, managing director at Global Hunter Securities.
Investor Insights: Here's What Germany and China Really Think About Gold.
European finance ministers plan to roll out the new rescue fund next month, leaving Italy and Greece to battle their respective debt crises on their own until then.  Greece has been ordered to provide written acceptance of bailout terms in order to receive its next 8 billion-euro loan installment by the end of November, while Italy is being pressed to institute budget cuts that Prime Minister Silvio Berlusconi's government agreed to back in August.  European officials are consulting with investors and credit-rating companies over options for increasing the rescue fund's 440 billion euros in guarantees into as much as 1 trillion euros.  In the end though, many investors believe Europe will resort to money printing to "solve" the sovereign debt crisis.
The US dollar (NYSE:UUP) declined as the SPDR Gold ETF (NYSEARCA:GLD) climbed to as high as $175.46.  Meanwhile, the iShares Silver ETF (NYSEARCA:SLV) climbed above $34.  Precious metal (NYSEARCA:DBP) miners were higher on the day, but pulled back towards the close.  AngloGold (NYSE:AU) edged .05% higher in afternoon trading, but Barrick Gold (NYSE:ABX) and Yamana Gold (NYSE:AUY) fell slightly lower.  Endeavour Silver (NYSE:EXK) hit an intra-day high of $13.10, but pulled back to nearly $12 before the close. Shares of First Majestic (NYSE:AG) traded in the green by 1% before the close.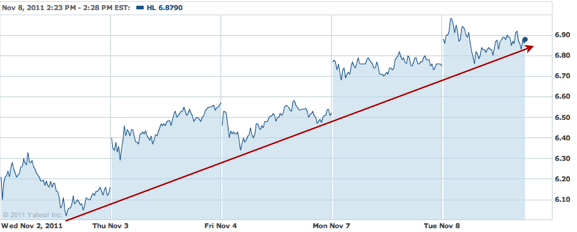 Hecla Mining (NYSE:HL) was the metal miner winner of the day, as shares received a 2.5% pop after a positive third quarter.  Net income for Hecla Mining Co. rose to $55.9 million (19 cents per share), compared to $19.8 million (6 cents per share) in the same quarter last year. This is a more than twofold rise from the year earlier quarter.  Hecla Mining is engaged in the discovery, acquisition, development, production and marketing of silver, gold, lead and zinc.  As the chart above shows, shares of Hecla Mining are quickly approaching $7.
Shares of the Market Vectors Gold Miners ETF (NYSEARCA:GDX) declined nearly .50% in afternoon  trading, despite David Einhorn, the head of Greenlight Capital, disclosing a larger long position in the ETF for the third quarter.
If you would like to receive more professional analysis on equity miners and other precious metal investments, we invite you to try our premium service free for 14 days.