Gold (NYSE:GLD) prices dropped below the crucial benchmark of $1,500 per troy ounce this morning, as the commodities markets got slugged on news of the IEAs plan to release oil reserves. The result of ongoing bailout negotiations in Europe continue to weigh on prices of the precious metal as well. According to MarketWatch, "Prices [for gold] are unlikely "to retreat much further," analysts at Commerzbank said in a note to clients. Traders this week will await for the debate and vote on a further round of austerity measures in Greece, with ratification a condition for the nation receiving additional financial support, they added. Also helping gold, money managers increased their net long positions, or bets that prices will go higher, to 206,300 contracts in the week ended June 21, according to data from the Commodity Futures Trading Commission."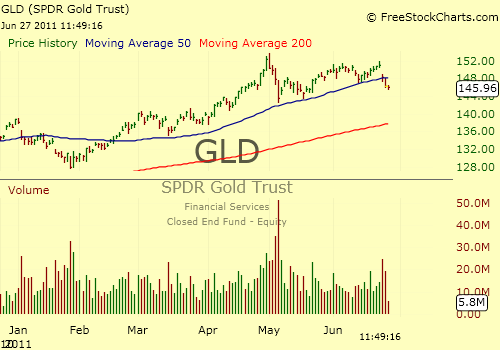 Silver (NYSE:SLV) prices also dropped off today, with the July contract down (SL1N) over 2%. Other metals, Platinum and Palladium, are also down on July futures markets so far in the day.
The movement in metals is likely tied to falling prices of crude oil (NYSE:USO), which likewise fell this morning over 1%, now trading at just over $89 per barrel. MF Global analysts believe the lower energy prices should ultimately work in favor of the precious metals markets, saying " [lower oil] should be constructive for metals, as this will reverse some of the inflationary forces in the economic system and perhaps persuade central bankers to hold off on raising interest rates. On the other hand, if and when funds liquidate energy positions, it is inevitable that some of the selling spills over into other groups [ie gold, silver, etc]."
For more analysis on our support levels and ranges for gold and silver, consider a free 14-day trial to Wall St. Cheat Sheet's acclaimed Gold & Silver Investment Newsletter.