Gold Bugs, the Fed, and Yahoo's Overhaul: Market Recap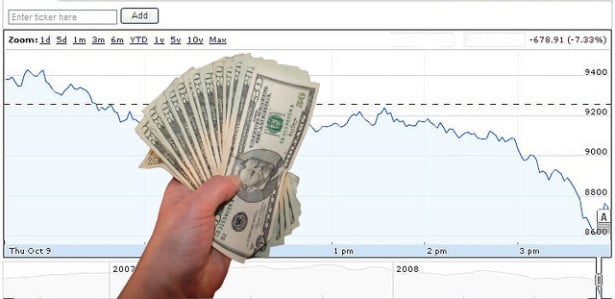 U.S. equities echoed market losses from around the world on Monday and declined. Traders seem unwilling to act bullishly with the minutes from the last Federal Reserve meeting due to be released on Wednesday. Any information indicating that tapering is imminent — widely expected to be announced at the upcoming September meeting — could increase selling pressure.
DJIA:

-0.47%

to 15,010.70
S&P 500:

-0.59%

to 1,646.06
NASDAQ:

-0.38%

to 3,589.09
Gold: -$5.50 to $1,366.20 per ounce
Oil: -$0.46 to $107.00 per barrel
U.S. 10-year: +0.055 to 2.880%
Breaking Up Is Hard to Do: Markets Fret Over Central Bank Policy: Markets are watching every move coming out of central banks as any action taken could be potentially roiling to sensitive investors. As market makers continue to look for solid ground in the tumultuous global economy, the actions of head bankers continue to set the pace even more so than governments. Policy directions from a central bank can change on a whim, while lawmakers the world over can't pass a bill without undergoing major public drama.
Is Greece's Economy Actually Healing? Greece is getting some good economic news to start the week with the country's primary budget surplus rising more than predicted in June. A rise in tourism was the main driver of the surplus as the struggling country saw receipts for tourism up 21 percent year-over-year, making for a total of 1.59 billion euros in June. For the first half of 2013, this brought the receipts total up to 3.32 billion euros — an increase of 18 percent from the first half of 2012.
Here's your Cheat Sheet to today's top stock stories.
Yahoo (NASDAQ:YHOO) Chief Executive Officer Marissa Mayer is looking to overhaul the company's Yahoo Finance app along the same lines as the updated Yahoo Weather app, which won an iOS design award from Apple (NASDAQ:AAPL), according to sources who spoke to the New York Post. Yahoo Finance, which provides updates on the stock market and economy news, will be completely redesigned with iOS 7 in mind. Apple is set to launch the new iOS in the next month, so Yahoo's under pressure to have the Finance app ready by then.
Will Intel Reveal a Mobile Catch-Up Plan at IDF? While Apple's rumored gathering on September 10th in San Francisco is getting all the attention these days, Barron's reports that an equally interesting development could be happening at the Moscone West convention center the same day as Intel (NASDAQ:INTC) holds its annual conference for developers, or IDF.

How Much Does Citigroup Stand to Lose in Egypt Unrest? The fighting in the streets of Egypt has intensified, with the death toll in the hundreds from Friday's clashes alone. Foreign businesses have been forced to respond by closing operations across the country at the orders of Egyptian officials. Citigroup (NYSE:C), whose assets in Egypt are reportedly close to $1.6 billion, closed its branches on Thursday on orders from the Central Bank of Egypt and has no plans of reopening, according to Bloomberg.
Why Is JPMorgan Facing Bribery Investigations in China? The gusto with which federal authorities are going after JPMorgan (NYSE:JPM) is, to put it one way, alarming. The firm's legal troubles began with the post-crisis regulatory crackdown on complex financial instruments and more or less crescendoed with the London Whale loss in 2012. However, while a $6.2 billion trading error may be the biggest item on federal regulators' radars, it certainly isn't the only thing.

Are Gold Bugs Becoming More Interested in Physical Gold? The price of gold has suffered an ugly correction since hitting all-time nominal highs above $1,900 per ounce more than two years ago. The precious metal recently posted its third consecutive quarterly loss, and hedge funds finally appear to be capitulating. However, physical gold demand is still strong as investors continue to question the health of the financial system.
Toyota Motors (NYSE:TM) is bumping its 2013 sales targets again as the automobile industry continues to recover and the Japanese car manufacturer prepares for its launch of the re-engineered Tundra and Corolla.