Gold Bugs, Unite!
Wow. Gold (NYSE:GLD) has more haters than Justin Bieber. But that doesn't mean records won't continue to be made.
Today Gold is setting new record highs. The precious metal is trading over $1,450 an ounce. Not bad considering how many people — you know who you are — have spent a ton of TV time and spilled ink trying to stop the bull market. And don't forget Silver (NYSE:SLV)!
Why? Why? Why is Gold (NYSE:GLD) defying gravity? It's really not.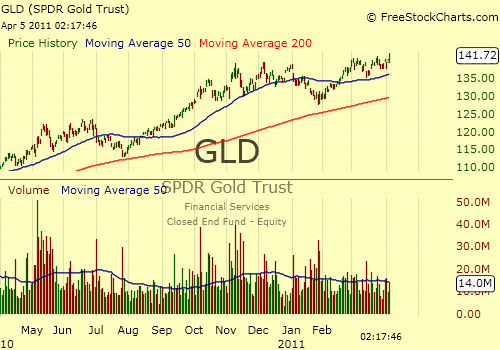 Gold is simply reacting to Moody's (NYSE:MCO) downgrade of Portugal's debt and the European debt crisis which Gold haters continue to ignore. And, inflation is starting to become a very hot topic. Obviously the Federal Reserve may not extend quantitative easing or zero interest rate policy, but we'll have to see it to believe it given the fragility of the global economy and US housing market (NYSE:IYR).
If you want to profit from the bull market in Gold (NYSE:GLD), try a free trial to our highly acclaimed Gold & Silver Premium Investment Newsletter.