Gold Climbs Higher as U.S. Government Nears Shutdown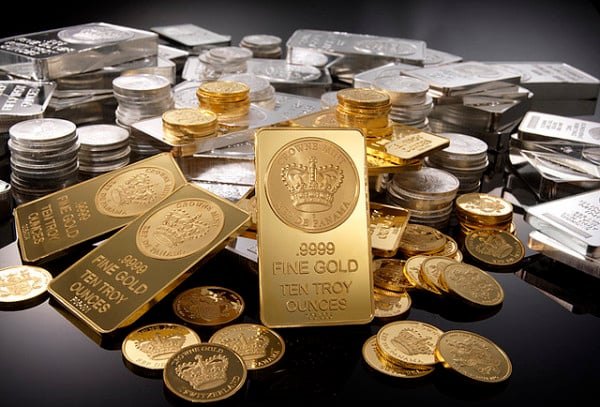 On Friday, gold (NYSEARCA:GLD) futures for December — the most active contract — increased $15.10 to close at $1,339.20 per ounce, while silver (NYSEARCA:SLV) futures edged 7 cents higher to finish at $21.83.
Both precious metals received buying support as the U.S. Dollar Index, which compares the greenback in a basket against six other flat currencies, declined to its lowest point of the week.
David Rodriguez, Quantitative Strategist at DailyFX, notes that, "There was neither special rhyme nor reason behind Dollar weakness except to note that US bond yields and overall interest rates likewise fell noticeably on the session. It's telling that the US currency continues to hold above the lows set versus the Euro and Japanese Yen following the recent US Federal Reserve policy announcement. The overall trend favors Dollar weakness, but traders want to see the Fed's next steps before pushing the currency to fresh lows."
Meanwhile, Congress still hasn't reached a budget deal. If Congress fails to reach some kind of an agreement by the end of the month, several parts of the government will shut down indefinitely. Thousands of federal workers would be furloughed without pay and numerous government offices and programs would be closed. The Senate approved a bill to avoid a shutdown, but Republican leaders have already said they won't pass it.
By the end of the trading day, shares of the SPDR Gold Trust (NYSEARCA:GLD) gained 0.90 percent, while the iShares Silver Trust (NYSEARCA:SLV) increased 0.20 percent. However, gold miner (NYSEARCA:GDX) Barrick Gold (NYSE:ABX) closed the day flat, while Newmont Mining (NYSE:NEM) fell 0.70 percent. Shares of Hecla Mining (NYSE:HL), one of the largest silver producers in the country, dropped 1.3 percent.
Don't Miss: Should Investors Ignore the Soap Opera in Washington, D.C.?
Follow Eric on Twitter @Mr_Eric_WSCS
If you would like to receive professional analysis on miners and other precious metal investments, we invite you to try our premium service free for 14 days.
Disclosure: Long EXK, AG, HL, PHYS