Gold Demand Is Mediocre, But Central Banks Are Still Heavy Buyers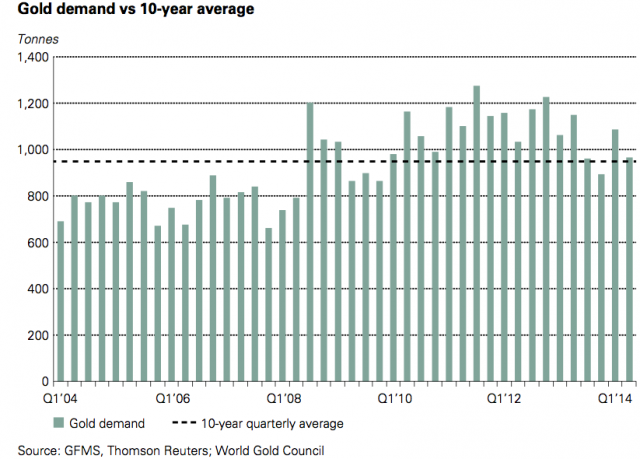 Gold is perhaps the most controversial asset in the market. The precious metal recently enjoyed more than a decade of annual gains and was considered a safe haven during much of the financial crisis, but broke its winning streak last year in spectacular fashion. A debate remains on how strong gold will perform in the wake of unprecedented central bank actions. However, one thing is clear: Gold demand is looking quite average these days.
In the second quarter, gold demand totaled 964 tonnes, down 16 percent from 1,148.3 tonnes in the same quarter a year earlier, according to a new report from the World Gold Council. That is below the average of 1,062.6 tonnes seen over the past five years, but inline with the ten-year average. Sharp declines in the consumer segments hindered total gold demand.
"The second quarter saw a continuation of many of the factors that were in play during Q1: the huge stockpiling of gold that took place in Asian markets during 2013 was still, to some extent, being digested; the election and import restrictions forestalled Indian consumers; bar and coin investors continue to sit on the sidelines; while jewelry consumers in the US and UK were further encouraged by improving economic conditions," explains the report.
Jewelry demand was almost a third lower in the second quarter. Demand totaled 509.6 tonnes, down 30 percent from 726.7 tonnes last year, and 2.5 percent below its five-year average. Asian and Middle-Eastern countries experienced double-digit declines in demand. However, the year-ago quarter provides a difficult comparison since gold prices crashed in April 2013, igniting consumer demand. Overall, jewelry accounted for 53 percent of global gold demand last quarter, which is in line with its historical trend.
While many gold investors receive a sense of security from physical metals, total bar and coin demand plummeted 56 percent to 275.3 tonnes, compared to a record 627.9 tonnes in the second quarter of 2013. China and India together accounted for over half of the decline. In fact, Chinese investment demand declined to its lowest level in nearly four years. Meanwhile, ETF outflows totals totaled 39.9 tonnes, a dramatic improvement from the panic selling last year that resulted in outflows of 402.2 tonnes.
On the positive, central banks are still hoarding gold. During the second quarter, central banks purchased 117.8 tonnes of gold, compared to only 92.1 tonnes a year earlier and easily above the five-year average of 82 tonnes. This also represents the fourteenth consecutive quarter of net buying from the institutions.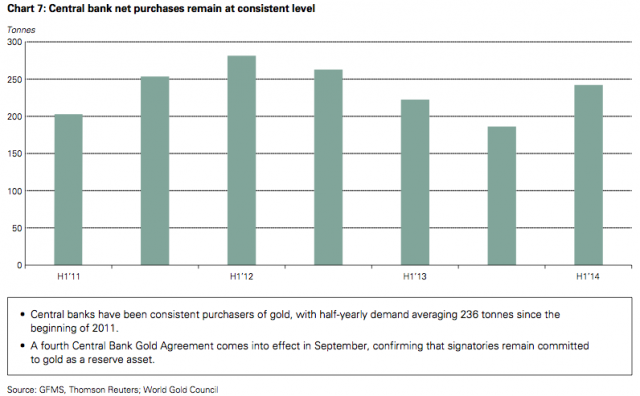 Follow Eric on Twitter @Mr_Eric_WSCS
More From 

Business

 Cheat Sheet:
Want more great content like this? Sign up here to receive the best of Cheat Sheet delivered daily. No spam; just tailored content straight to your inbox.