Gold Dips After Tapering Comments But Closes Above $1,300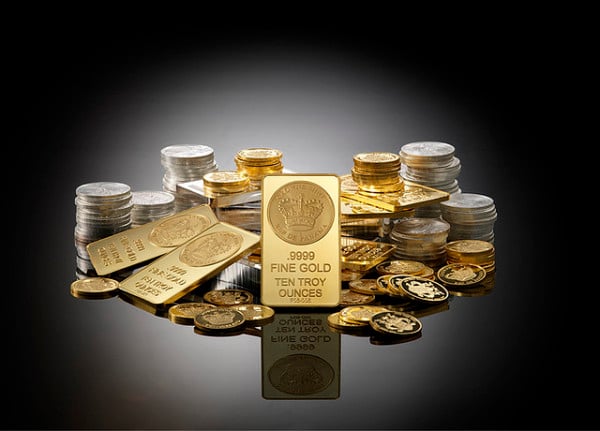 On Monday, gold (NYSEARCA:GLD) futures for December — the most active contract — declined $8.10 to close at $1,302.40 per ounce, while silver (NYSEARCA:SLV) futures for September edged 19 cents lower to finish at $19.72.
Both precious metals dipped as Richard Fisher, president of the Federal Reserve Bank of Dallas, said during a speech that policymakers must "gird our loins" to make the first bond-tapering move this fall.
He added, "When the right time comes, we must carefully remove the program's pole pin and gingerly unwind it so as not to prompt market havoc." Fisher also noted that "The challenge now facing the [Federal Open Market Committee] is that of deciding when to begin dialing back the amount of additional security purchases."
By the end of the trading day, shares of the SPDR Gold Trust (NYSEARCA:GLD) closed 0.5 percent in the red, while the iShares Silver Trust (NYSEARCA:SLV) fell 0.6 percent. Barrick Gold (NYSE:ABX) dropped 1.7 percent, but shares of Yamana Gold (NYSE:AUY) increased 0.7 percent. Shares of First Majestic Silver (NYSE:AG) also managed to edge 0.4 percent higher.
Despite the decline in Barrick shares, JPMorgan Chase believes much of the worse may finally be over for the miner.
The bank said: "Barrick is changing corporate strategy from growth to cashflow. The 8moz production target is gone and in comes the mantra that 'returns drive production'. A casualty of the reduced optimism for metal prices and the aggressive growth strategy that contributed to cost overruns was the book value of the Pascua Lama project, and some other assets. We feel the company is doing the best it can to re-focus on cashflows."
Follow Eric on Twitter @Mr_Eric_WSCS
If you would like to receive professional analysis on miners and other precious metal investments, we invite you to try our premium service free for 14 days.
Disclosure: Long EXK, AG, HL, PHYS