Gold Finishes at Worst Level Since July 2011
On Friday, gold (NYSEARCA:GLD) futures for June delivery, the most active contract, plunged $63.50 to close at $1,501.40 per ounce, while silver (NYSEARCA:SLV) futures for May dropped $1.37 to finish at $26.33.
Both precious metals received a heavy amount of selling pressure. Gold suffered its worst single-day trading loss in over a year and posted its lowest close since July 2011. With the price of gold declining roughly 20 percent from its peak in August 2011, it is now widely considered to be in a bear market.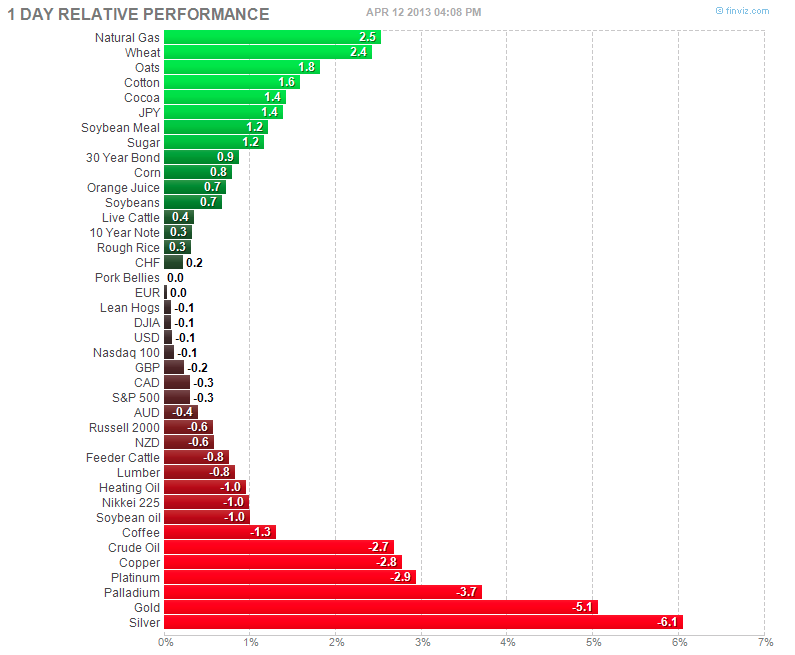 There was a lack of significant news for the sell-off, but the negativity surrounding gold has been strong recently. Earlier this week, Goldman Sachs slashed its three-month target on gold to $1,530 per ounce, down from $1,615 per ounce. The forecast for the end of 2013 dropped from $1,600 to $1,450. In the longer-term, analysts cut their price target to only $1,270 per ounce in 2017.
Cyprus might sell gold…
While reports denied that Cyprus was selling its gold to help fund a bailout, European Central Bank President Mario Draghi now claims the Cypriot central bank must use profits of any gold sales to cover losses on emergency loans.
"The decision is going to be taken by the central bank," Draghi said after a meeting of euro-area finance officials in Dublin, according to Bloomberg. "What's important, however, is that what is being transferred to the government budget out of the profits made out of the sales of gold should cover first and foremost any potential loss that the central bank might have from its ELA."
By the end of the day, the SPDR Gold Trust (NYSEARCA:GLD) closed 4.7 percent in the red, while the iShares Silver Trust (NYSEARCA:SLV) dropped 5.3 percent. Gold miners (NYSEARCA:GDX) such as Barrick Gold (NYSE:ABX) and Yamana Gold (NYSE:AUY) plunged 8.5 percent and 7.2 percent, respectively. Endeavour Silver (NYSE:EXK) declined 5.9 percent. Meanwhile, the Dow Jones Industrial Average (NYSEARCA:DIA) and S&P 500 (NYSEARCA:SPY) finished the day flat.
Don't Miss: How Much Gold Exists in the World?
If you would like to receive professional analysis on miners and other precious metal investments, we invite you to try our premium service free for 14 days.
Disclosure: Long EXK, AG, HL, PHYS