Gold Hits Fresh 6-Week High as ECB Cuts Interest Rates
On Thursday, gold (NYSEARCA:GLD) futures for December delivery gained $35.50 to settle at $1,765.10 per ounce, while silver (NYSEARCA:SLV) futures jumped 56 cents to settle at $34.50.  It was the highest settlement for gold in six weeks.
The European Central Bank unexpectedly cut its main refinancing rate by 25 basis points to 1.25% in a surprise move Thursday, acting boldly to support the struggling European economy as a Greek exit from the euro becomes increasingly more likely. The ECB also reduced the interest rate on its deposit facility to 0.5% and the rate on the marginal lending facility to 2.0%.
The cut marks a reversal in policy after the ECB increased its rates in July and April, becoming the first major central bank to do so. Markets are already looking for hints that the ECB might further cut rates before the end of the year.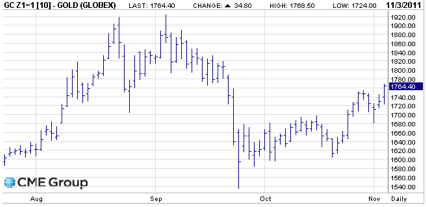 Precious metals (NYSEARCA:DBP) were off to the races after the ECB rate cut.  Gold miners (NYSEARCA:GDX), Yamana Gold (NYSE:AUY) and AngloGold (NYSE:AU) led the charge by climbing 5% and 3.5%, respectively in afternoon trading.  Despite falling 20% in the last month, shares of Agnico Eagle Mines (NYSE:AEM) received a 4% boost after receiving an upgrade from Hold to Buy at Dahlman Rose, with a price target of $50.  Freeport-McMoRan Copper & Gold (NYSE:FCX) also edged higher after Barclays initiated an Overweight rating on the stock.  Silver miners (NYSEARCA:SIL) such as Endeavour Silver (NYSE:EXK) gained 4%, while First Majestic (NYSE:AG) increased 3%.  Hecla Mining (NYSE:HL) surged 5.5% as investors anticipate strong third quarter earnings from the company on November 8.
"What's driving gold right now is that investors don't know what to do. All the rumors in Europe are making people worried," said David Beahm, vice president of economic research with Blanchard & Company Inc, a New Orleans-based investing firm that specializes in gold and other precious metals.  Greek Prime Minister George Papandreou has called off his plan to hold a referendum just three days after its announcement rocked global markets.  In an address to his party's central committee on Thursday evening, Papandreou said there was no need for a referendum now that the opposition New Democracy party said it would back the debt deal, which includes deeply unpopular austerity measures. He invited the party to become "co-negotiators" on the deal.
If you would like to receive more professional analysis on equity miners and other precious metal investments, we invite you to try our premium service free for 14 days.