Gold Miners Not Making It Easy on Investors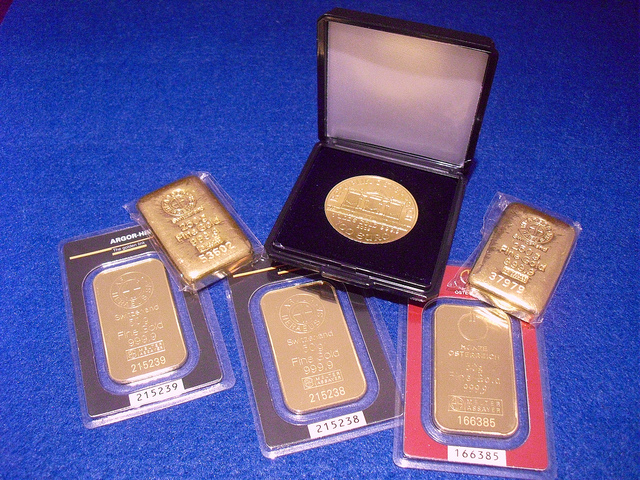 Hedge fund manager Hugh Hendry once said: "There's no rationale for owning a gold mining equity. It's as close as you get to insanity. The risk premium goes up as the gold price goes up. There is no valuation argument that protects you against the risk of confiscation." While most investors have yet to face confiscation, it has been a brutal year for shareholders.
The world's largest gold producer recently reminded investors just how much can go wrong in the mining industry. Barrick Gold (NYSE:ABX) reported third-quarter financial results last week that beat on the top and bottom line, but shares still dropped more than 5 percent and finished the week 11 percent in the red. Barrick earned 58 cents per share on revenue of $2.99 billion, down from 88 cents per share on revenue of $3.4 billion a year earlier. Analysts expected earnings of 50 cents per share on revenue of $2.94 billion.
Barrick made several disappointing announcements along with the financial results. The company decided to suspend construction activities at the Pascua-Lama project in South America, which has faced delays and problems for more than a decade. The decision will postpone near-term cash outlays and allow Barrick "to proceed with development at the appropriate time under a more effective, phased approach," the firm said. Earlier this year, Barrick took a $5.1 billion charge related to the project located between Chile and Argentina.
"As a result of our previous decision to slow down and re-sequence construction, which resulted in significant demobilization over the last few months, we are in a much better position to implement this temporary suspension quickly and efficiently, with many ramp-down activities already underway," said Jamie Sokalsky, Barrick's president and CEO. "Our previously lowered capital cost guidance for 2014 is now expected to be further reduced by up to $1 billion while we continue to address all our environmental and social obligations. This decision is consistent with our disciplined capital allocation framework announced last year."
The price of gold has not made things easy on miners. Since hitting all-time nominal highs above $1,900 per ounce more than two years ago, gold has suffered an ugly correction. Over the course of only two days in April, gold plunged $200 to reach its lowest level since February 2011. In the process, gold posted its worst one-day percentage drop since 1980, the largest fall in dollar terms on record. On a technical basis, the precious metal reached its most oversold reading since at least 1975.
With gold prices struggling to regain momentum to the upside, some miners are taking precautions against more turmoil. Barrick also announced an agreement with RBC Capital Markets, Barlcays, and GMP Securities to offer $3 billion in public equity, representing 163.5 million common shares at a price of $18.35 per share. The move dilutes value for existing shareholders, but Barrick says the net proceeds will improve the company's financial position in the long run.
Barrick explained: "The net proceeds from the Offering will be approximately $2.9 billion, determined after deducting the Underwriters' commission. In the event that the Over-Allotment Option is exercised in full, the net proceeds to be received by Barrick will be approximately $3.3 billion. Barrick intends to use the net proceeds of the Offering, including proceeds realized through the exercise of the Over-Allotment Option (if any) to strengthen its balance sheet and improve the long-term liquidity position of the company by using approximately $2.6 billion of the net proceeds to redeem or repurchase outstanding debt of, or guaranteed by, Barrick, with such redemptions and repurchases focussed on debt maturing in the short and medium term."
As the chart below shows, Barrick is simply the biggest player in a troubled industry. The Market Vectors Gold Miners Index (NYSEARCA:GDX) has plunged 47 percent this year, while the Market Vectors Junior Gold Miners Index (NYSEARCA:GDXJ) has dropped more than 50 percent. Barrick Gold and Yamana Gold (NYSE:AUY) are down 44 percent and 48 percent year to date, respectively. If other miners follow Barrick in offering equity to pay off debt, shareholders could suffer even more.

Don't Miss: The Federal Reserve: Trust Us, We're Watching the Data Closely
Follow Eric on Twitter @Mr_Eric_WSCS
If you would like to receive professional analysis on miners and other precious metal investments, we invite you to try our premium service free for 14 days.
Disclosure: Long EXK, AG, HL, PHYS