Gold & Silver Finish the Week With a Jump
On Friday, gold (NYSE:GLD) futures for December delivery jumped $23.20 to settle at $1,636.10 per ounce, while silver (NYSE:SLV) futures surged 91 cents to settle at $31.19.
After a four-day losing streak, gold prices finally broke to the upside as the US dollar weakened.  Federal Reserve governor Dan Tarullo rattled the dollar by saying, "I believe we should move back up toward the top of the list of options, the large-scale purchase of additional mortgage-backed securities."  Another large round of buying assets by expanding the Fed's balance sheet would most likely be called QE3 by investors, and would be positive for gold and silver.  The US dollar (NYSE:UUP) declined against the euro and made a new low against the Japanese yen (FXJ).
Super Hot Feature: This Famous Hedge Fund Manager Hates These 6 Stocks.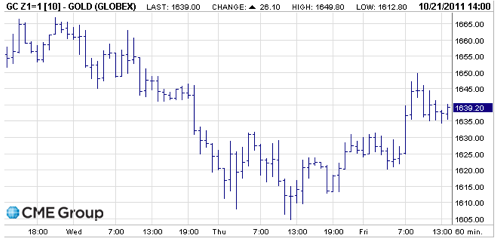 In afternoon trading, gold miner (AMEX:GDX) AngloGold (NYSE:AU) popped more than 2% higher, while Newmont Mining (NYSE:NEM) increased by 1.10%.  Mining giant Agnico-Eagle (NYSE:AEM) announcd it is increasing the cash portion of a takeover offer for Grayd Resource Corp, another gold miner which hold assets in Mexico.  Silver miners (NYSE:SIL) Endeavour (AMEX:EXK) and First Majestic (NYSE:AG) both edged less than 1% higher on the day.
Investor Insight: What's Going On With Gold?
If you would like to receive more professional analysis on equity miners and other precious metal investments, we invite you to try our premium service free for 14 days.