Gold & Silver Prices Decline, But Silver Miners Edge Higher
On Thursday, gold (NYSE:GLD) futures for December delivery declined $34.10 to settle at $1,612.90 per ounce, while silver (NYSE:SLV) futures fell $1.00 to settle at $30.28.
Popular: Did the BOE Just Confirm the Long-Term Picture for Precious Metals?
Investors remain confused as headlines from Europe continue to flood the market.  While the markets may be expecting a resolution over the weekend, Europe still appears to be deciding the best approach.  Germany now says that more work is needed before a euro package deal is reached.  The goal is to have an agreement by next week.  The US dollar gained (NYSE:UUP), but once again hit resistance at 77.50.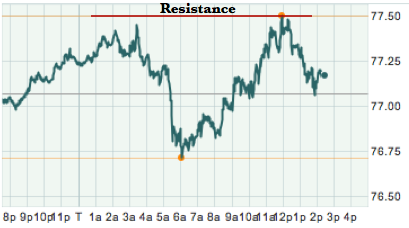 Although the Dow (NYSE:DIA) remained mostly flat for the day, gold and silver equities bounced around quite a bit.  Gold miners (AMEX:GDX) AngloGold (NYSE:AU) and Barrick Gold (NYSE:ABX) both declined nearly 3% in afternoon trading.  Shares of Newmont Mining (NYSE:NEM) declined 1.6% as protests force the miner to close its Peruvian mine.  Local protestors have blocked access roads to the mine, even destroyed certain production equipment.  Another $2 million worth of damage was done to equipment owned by an independent contractor.  Silver miners (NYSE:SIL) also saw large swings in the day.  First Majestic Silver (NYSE:AG) shares fell 3%, while Endeavour Silver (AMEX:EXK) edged slightly higher. Thursday's trading range for Endeavour varied from a low of $8.79 to a high of $9.34.  Silver Wheaton (NYSE:SLW) also traded higher during the final trading hour of the day.
Investor Insight: Will Weak Bank Earnings Force Investors into Gold?
If you would like to receive more professional analysis on equity miners and other precious metal investments, we invite you to try our premium service free for 14 days.