Gold Sinks Amid Government Shutdown Woes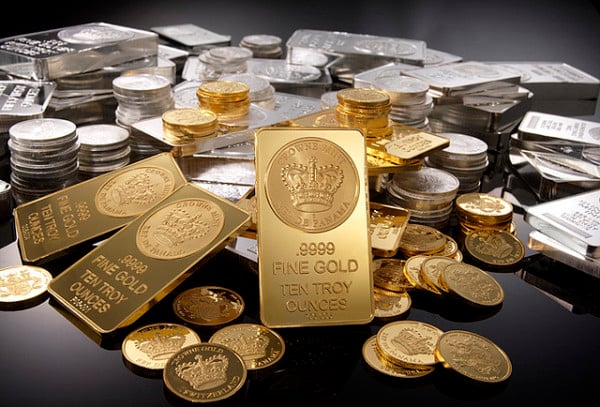 On Friday, gold (NYSEARCA:GLD) futures for December — the most active contract — declined $7.70 to close at $1,309.90 per ounce, while silver (NYSEARCA:SLV) futures edged 3 cents lower to finish at $21.75. Gold declined 2.2 percent this week.
Both precious metals closed the week in the red as a budget deal still eludes Congress. The U.S. Government has now been in partial shutdown mode for four consecutive days. At the beginning of October, hundreds of thousands of federal employees were placed on furlough, while everything from national parks to numerous agencies and public services closed until some type of a budget agreement is reached by Congress.
Responding to earlier reports on who is winning the budget battle, Speaker of the House John Boehner (R-Ohio) told reporters, "This isn't some damn game. The American people don't want their government shutdown and neither do I."
By the end of the trading day, shares of the SPDR Gold Trust (NYSEARCA:GLD) fell 0.50 percent, but the iShares Silver Trust (NYSEARCA:SLV) edged slightly higher. Gold miners (NYSEARCA:GDX) Barrick Gold (NYSE:ABX) and Yamana Gold (NYSE:AUY) declined 0.40 percent and 0.90 percent, respectively. Shares of Endeavour Silver (NYSE:EXK) dropped 1.7 percent.
Despite the weakness in precious metals this year, selling pressure appears to be slowing. Gold exchanged-traded products like the SPDR Gold Trust posted $4.2 billion in outflows during the third quarter, down from record outflows of $19.6 billion in the previous quarter. In the third quarter, shares of the SPDR Gold Trust increased 7.6 percent.
Don't Miss: 5 Vital Steps to Protect Your Finances from Government Shutdowns
Follow Eric on Twitter @Mr_Eric_WSCS
If you would like to receive professional analysis on miners and other precious metal investments, we invite you to try our premium service free for 14 days.
Disclosure: Long EXK, AG, HL, PHYS