Goldman Asks Court to Dismiss Lawsuit and 2 Other Dow Movers to Watch
Goldman Sachs Group (NYSE:GS): Current price $167.06
Goldman Sachs International, an arm of Goldman Sachs Group, has requested that a court disallow the Singapore tycoon Oei Hong Leong's lawsuit that alleges the company falsely steered him into making leveraged trades that the yen would depreciate against the Brazilian real. In a November 6 filing with the Singapore High Court, Goldman contended that proceedings should be suspended to be supplanted with private and confidential arbitration. A closed hearing is set for Friday. Oei has accused Goldman Sachs in the lawsuit filed September 20 of making fraudulent implications that the real was a stable and liquid currency anchored to the United States dollar and seeks $31.7 million in trading losses, with interest.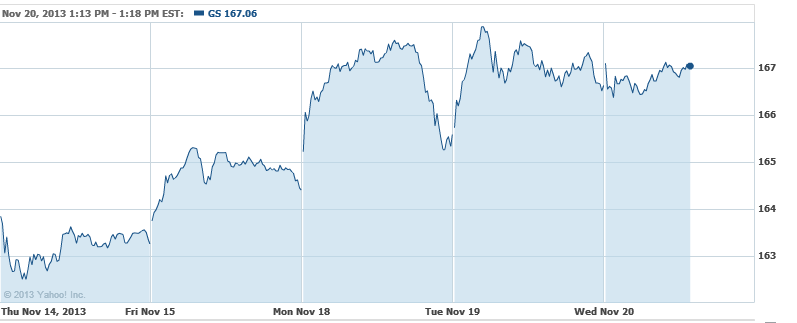 Home Depot Inc. (NYSE:HD): Current price $80.22
Home Depot shares reached a new 52-week high of $82.27 on Tuesday, gaining a tailwind from better-than-anticipated strong top- and bottom-line results for the third quarter, along with a strong full-year outlook. The home improvement major eventually closed at $80.38 on Tuesday, garnering a year-to-date return of about 28.6 percent. The average volume of shares traded during the last three months comes to roughly 7.47 million.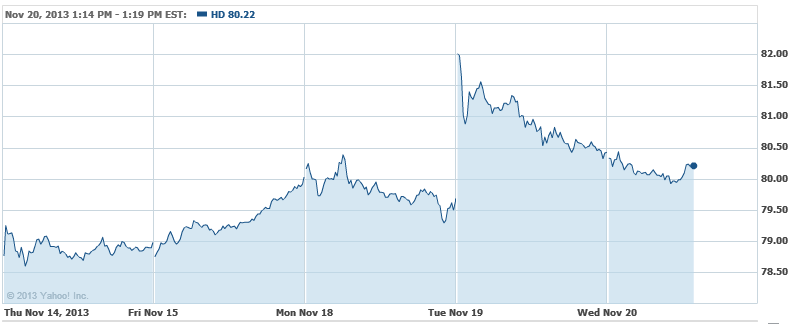 Exxon Mobil Corp. (NYSE:XOM): Current price $92.12
Exxon Mobil Corp. spokesman Dave Eglinton said to the Associated Press on Wednesday that crews have put out a fire at a South Texas natural gas plant that the company operates but that the facility at Kingsville remains closed while authorities search for the cause of the blaze. No one was injured in the fire that broke out around 1 a.m. Central Time on Monday. Eglinton said that the fire was extinguished Tuesday night and that crews will remain at the scene to monitor the site.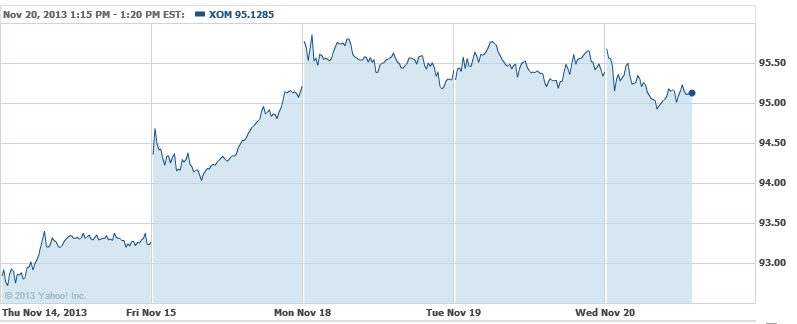 Don't Miss: The U.S. Economy and the Curious Case of Missing Demand.