Goldman Bumps Apple Off Conviction List And 4 Other Hot Stocks
Goldman Sachs has removed Apple (NASDAQ:AAPL) from its coveted conviction buy list following a trading day that saw tech stocks slump, with Apple leading the decline. Though the firm retained its Buy rating of the shares, Goldman's price target was cut from $660 to $575, sending ripples through the investor community. Goldman cited the current production cycle as its reason for bumping the company off the list, adding that it did not generate the market share drive that the bank was hoping for. Goldman also added that it feels the company will have difficulties meeting its consensus expectations for the March and June quarters.

Nasdaq OMX (NASDAQ:NDAQ) slid on Monday following the acquisition of eSpeed, a computer-based trading platform that it obtained for $750 million, as well as a subsequent credit downgrade. "This represents a new market for NDAQ and has the potential to be a growth driver in future periods," the analyst comments. "However, as a result of the deal the company's buyback program will be curtailed for at least twelve months and the transaction is only modestly accretive in the first year."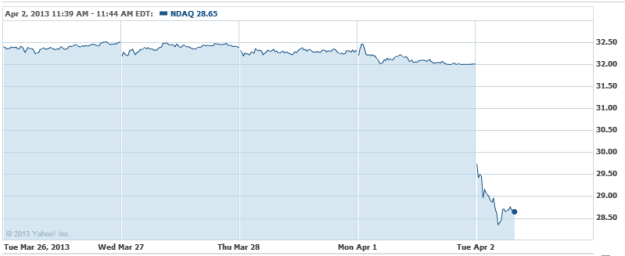 Raymond James has upgraded Qualcomm (NASDAQ:QCOM) stock from an Outperform to a Strong Buy, and lifted its price target from $80 to $83. Qualcomm closed at $66.00 on Monday.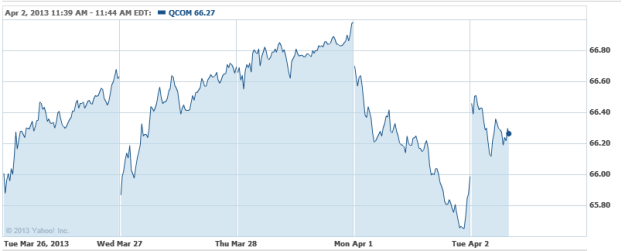 Hewlett-Packard (NYSE:HPQ) suffered a credit downgrade at the hands of Goldman Sachs' Bill Shope, who is also responsible for knocking Apple (NASDAQ:AAPL) off Goldman's conviction list. Shope cut his rating on HP from Neutral to Sell, a bearish move on the company that has seen gains of 64 percent this year, enough to make the company the Dow's biggest gainer. Shope says that HP investors have become "unrealistic," especially as the company is stuck in a multi-year turnaround. "Sentiment has moved ahead of reality," he wrote in a note on Tuesday. At 10:40 AM EST, HP shares were down 4.87 percent, resting at $22.17.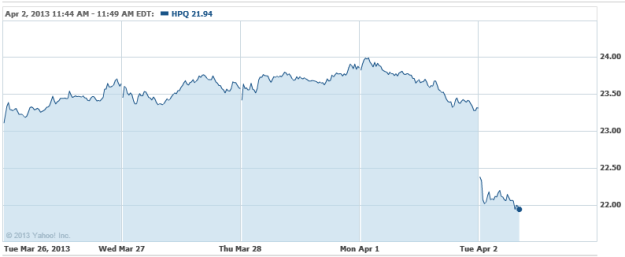 In its latest 8-K SEC filing, Delta Airlines (NYSE:DAL) reported that its March revenues rose 2 percent in the year over year metric, with gains from trans-Atlantic and Latin units partially offsetting less impressive performance in the Pacific due to the weakening of the yen. Delta said the reduction from previous guidance is due to lower close-in bookings. At 11:00 AM EST, Delta shares sat down 6.77 percent, to $15.15.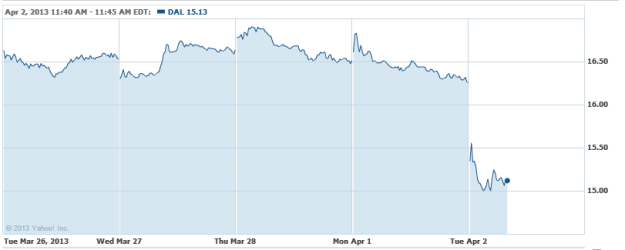 Don't Miss: Did Apple Miss This Fad on Purpose?