Goldman Nears Buying Stake in Danish DONG Energy and 2 Other Dow Movers to Watch
Goldman Sachs Group (NYSE:GS): Current price $160.18
The Danish business daily Borsen reported Friday that Goldman's private equity division Goldman Sachs Capital Partners is close to acquiring an interest in Denmark's oil and gas group DONG Energy. The newspaper, citing anonymous sources, said that the Goldman unit will join with Danish pension funds ATP and PFA to purchase approximately 20 percent of DONG Energy at roughly $1.45 billion. Morgan Stanley and Nordea are serving as advisers for DONG in the transaction that close as soon as next week.

AT&T Inc. (NYSE:T): Current price $33.89
According to a statement, AT&T has appointed KeyCorp Chairman and Chief Executive Beth Mooney as a director, thus expanding its board to 14 members. Mooney will serve on AT&T's corporate development and finance committee, becoming the fourth woman on the board and the second to be named in the past three months. She brings banking expertise to AT&T's board in a period in which financial services are increasingly conducted via mobile devices.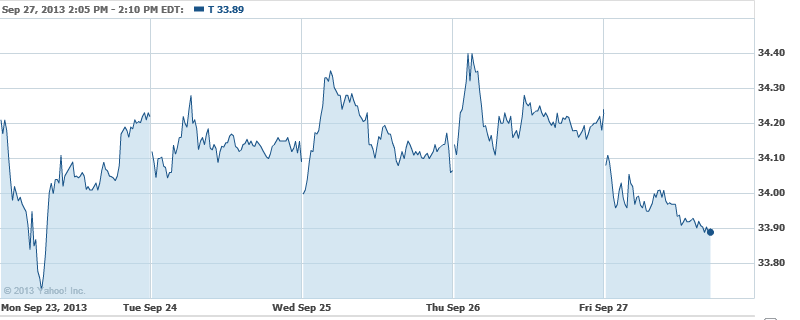 Intel Corp. (NASDAQ:INTC): Current price $
Knowledgeable sources report that Intel is searching for partners to assist its Internet video service, which might miss its launch schedule. The chip behemoth has been testing a service that unites both live and on-demand TV, along with its own software and set-top box. The company has said it hopes to debut the service in some domestic markets by the end of this year, but has so far not announced any deals with content providers. Meanwhile, the corporation's new CEO and president have expressed caution regarding the endeavor, which is led by the former British Broadcast Corp. executive Erik Huggers.
Don't Miss: Should Investors Ignore the Soap Opera in Washington, D.C.?