Goldman Sachs Breakdown, Hardware Hurts IBM: Market Recap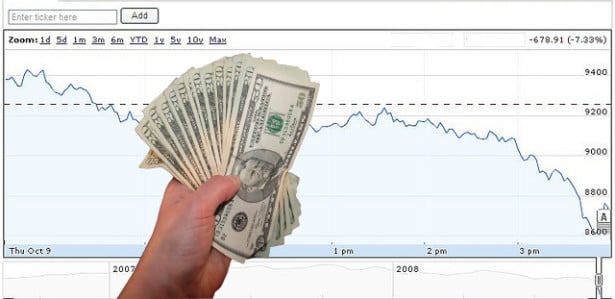 U.S. stocks rose during trading on Thursday as the government shutdown ended, sending the S&P 500 to a record high. Investors are speculating that the Federal Reserve will continue with the current pace of stimulus because of the impasse. President Obama signed a bill on Wednesday night that will fund the government through January 15 and borrowing authority through February 7.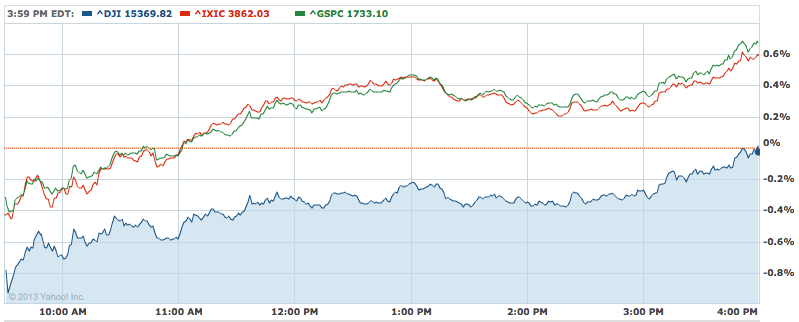 Gold: +2.89% to $1,319.40 per ounce Oil: -1.59% to $100.66 per barrel U.S. 10-Year: -3.14 to 2.587%
Here's How Treasury Secretary Jack Lew Lit a Fire Under Congress: The partial shutdown of the United States government may have ended, but the blame game is still in full swing. Pundits, politicians, and the public, temporarily freed from the burden of impending catastrophe (perceived or otherwise), can focus on not losing the eternal game of "pin the fault on the other party."

Government Reopened: What's Next for Furloughed Employees? Senate Majority Leader Harry Reid (D-Nev.) and Minority Leader Mitch McConnel (R-Ky.) finally landed on a workable deal, and the government shutdown ended Wednesday. With borrowing authority running out on Thursday, the Wednesday night conclusion to the Washington standoff waited until the last possible moment.

Forgetting the Government Shutdown, Jobless Claims Look OK: With the federal government in partial shutdown mode for the past 16 days, furloughing as many as 800,000 workers at one point, initial claims for unemployment benefits "are likely to be distorted for some time," Raymond James chief economist Scott Brown told Bloomberg after last week's report from the Department of Labor's Bureau of Labor Statistics.
Here's your cheat sheet to today's top stocks stories:
Verizon Communications (NYSE:VZ) reported earnings on Tuesday morning that beat analyst expectations and showed strong customer growth for Verizon despite increased competition from rivals like T-Mobile US (NYSE:TMUS). Verizon reported adjusted earnings of 77 cents per share, topping expectations of 74 cents and growing 20.3 percent from the 64 cents reported in the third quarter of 2012.
International Business Machines (NYSE:IBM), the world's largest technology services company reported third-quarter earnings that surpassed Wall Street's expectations, but revenue came in below estimates. IBM reported that, excluding certain items, earnings rose to $3.99 per share from $3.62 per share in the year-ago quarter, while revenue dropped 4 percent to $23.72 billion from $24.75 billion a year ago. Comparatively, analysts had expected IBM to report earnings per share of $3.96 on a revenue of $24.75 billion.
Goldman Sachs (NYSE:GS) got up on the wrong side of the bed Thursday. Goldman Sachs shares closed Wednesday night at $162.25, up nearly 3 percent for the day, but erased those gains and then some after reporting third-quarter financial results that fell short of analyst expectations, and revealed that Goldman Sachs, Wall Street's best trading bank, experienced a rare breakdown in its trading machine.
Lockheed Martin Corporation (NYSE:LMT), suffering from business headaches, goes the route of hemispherectomy with heavy-handed employee terminations. Lockheed announced Wednesday its intention to cut 600 workers from their Mission Systems and Training Division, according to Reuters. The biggest defense contractor in the United States, Lockheed has already cut 30,000 employees since 2008.
UnitedHealth (NYSE:UNH) — the largest health insurer in the United States — is much less invested in the individual insurance exchanges created by the Affordable Care Act than its competitors. Several of UnitedHealth's peers are also treading cautiously into the ACA's new online insurance marketplaces, but United has been particularly wary of the possibility that a flood of Americans who previously could not obtain coverage would run up large health care bills.
Amazon.com Inc. (NASDAQ:AMZN) is reportedly teaming up with HTC to work on a much-rumored Amazon smartphone as the e-commerce company seeks to compete with rivals Apple (NASDAQ:AAPL) and Google (NASDAQ:GOOG), according to people familiar with the matter who spoke to the Financial Times. Sources said that there are three devices currently in production, one of which is close to completion.
Follow Jacqueline on Twitter @Jacqui_WSCS
Don't Miss: JPMorgan: Settling Up With Regulators at $100 Million.