Goldman Sells Off Majority of Its Rothesay Life Stake and 2 Other Dow Movers to Watch
The Goldman Sachs Group Inc. (NYSE:GS): Current price $159.19
In order to free capital to satisfy more robust regulatory requirements, Goldman Sachs has divested the majority of its interest in the United Kingdom insurer Rothesay Life, which was founded and managed by one of its former partners. Singapore wealth fund GIC and private equity group Blackstone are purchasing 28.5 percent apiece, while Massachusetts Mutual Life Insurance Co. will buy 7 percent, Rothesay Life reported on Tuesday. However, Goldman Sachs will still be the biggest shareholder with a 36-percent stake. The parties did not divulge the terms of the transaction, which is subject to regulatory approval.
Verizon Communications Inc. (NYSE:VZ): Current price $51.17
Verizon has recruited a prominent executive away from EMC Corp's RSA security arm, as the carrier wants to expand its offerings of services to help businesses guard data and fight cyber attacks. On Tuesday, the telecommunications firm said that it has hired RSA Chief Information Security Officer Eddie Schwartz to head Verizon's corporate security and cyber intelligence practice. Schwartz became prominent after RSA hired him as its chief information security officer in 2011, giving him the responsibility of bolstering security at the firm, after an embarrassing cyber attack that resulted in the theft of some of its key intellectual property.
Pfizer Inc. (NYSE:PFE): Current price $30.65
Pfizer announced Tuesday it will keep working to win approval of Remoxy, its experimental pain drug that has been blocked for years due to regulatory worries. The company said it will run new clinical trials of the drug, a potential treatment for moderate to severe pain, which is designed to be more difficult to abuse than older medications. Pfizer said that it will compare a new version of Remoxy to an older one and will run a study that evaluates the potential for abuse of the new version, but it said it does not expect to be able to file for approval again until the middle of 2015, or later.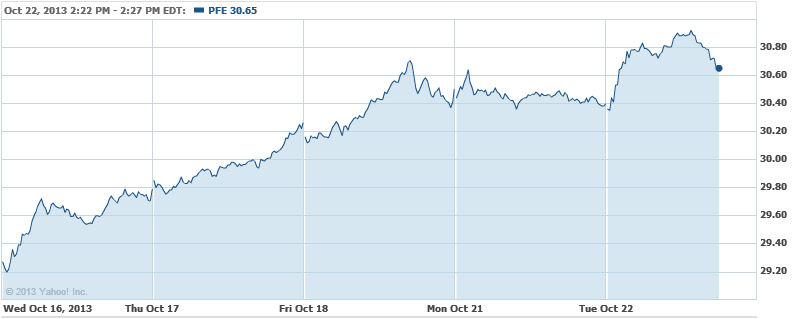 Don't Miss: Are American Consumers Shaking Off Economic Concerns?