Goldman Will Wind Down Hedge Funds for Volcker Compliance and 2 Other Dow Movers to Watch
The Goldman Sachs Group Inc. (NYSE:GS): Current price $162.35
Chair and Chief Executive Lloyd Blankfein announced Tuesday that Goldman Sachs would begin winding down hedge funds and garnering private equity, so as to comply with financial reforms created to restrain activities deemed riskier. At a Bank of America conference, Blankfein said that the changes were consistent with guidelines under the Volcker Rule that disallow banks from trading for their own account. He continued that investment banking remains Goldman's primary focus, and that clients would demand certain services, regardless of Volcker prohibiting them.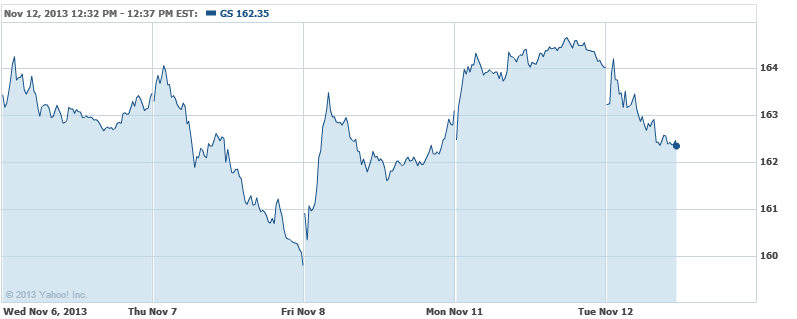 Chevron Corp. (NYSE:CVX): Current price $120.10
On Tuesday, Chevron affirmed that its Brazilian subsidiary Petrobras has begun crude oil output from Papa-Terra's floating production, storage, and offloading vessel lying offshore Brazil. Chevron holds a 37.5 percent stake in the Papa-Terra field, while Petrobras, as project operator, has the remaining 62.5 percent. Located some 70 miles southeast of Rio de Janeiro at a water depth of roughly 3,900 feet, Papa-Terra is a heavy oil development within Block BC-20 of the southern Campos basin.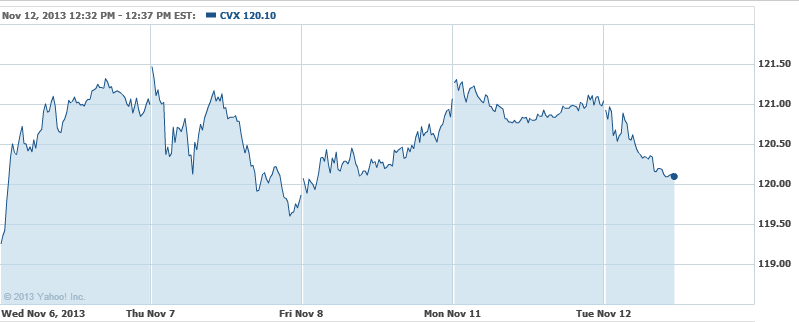 Verizon Communications Inc. (NYSE:VZ): Current price $50.16
Verizon Enterprise Solutions has appointed Eddie Schwartz as chief of its security and cyberintelligence practice. In his new position, Schwartz will help Verizon push forward its leadership position in cyber security by stepping up the pace of innovation and the integration of advanced security service delivery spanning Verizon's leading cybersecurity solutions. Among the areas Schwartz will manage are Verizon's world-class cyberforensics investigative and research team, which is charged with producing the Verizon Data Breach Investigations Report series; and the firm's advanced cloud and premises-based managed security solutions portfolio.
Don't Miss: Bank of America Loan Repurchasing: Is the End in Sight?