Gone Gluten-Free? Go to Dunkin Donuts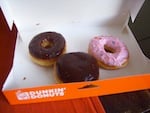 McDonalds Corp (NYSE:MCD) might be the fast food king, and Starbucks Corp (NASDAQ:SBUX) the coffee chain queen, but the joke's on them because Dunkin Brands Group Inc's (NASDAQ:DNKN) Dunkin' Donuts is about to beat both of them to the gluten-free pastry finish line. According to Bloomberg, the company's executive chef said in an e-mail that the chain will sell gluten-free cinnamon-sugar doughnuts and blueberry muffins in all of its U.S. stores this year.
While certain consumers might balk at the idea of gluten-free pastries, others that suffer dietary restrictions are contending that it's about time. Those with celiac disease can't eat the protein in wheat, rye, and barley, and the condition affects about one out of every 133 Americans, acccording to the University of Chicago Celiac Disease Center. So while Dunkin' used to be out of the question for these customers, its pastry options will now cater to their restrictions.
And Dunkin' Donuts will likely not only win over these gluten-intolerant doughnut-lovers, it'll also appeal to the many others who are also tapping into alternative choices as the gluten-free diet grows more and more popular in the United States. Though wheat-free definitely doesn't equate to calorie-free, many are under the assumption that the gluten-free alternative is the healthier option.
Nancy Child, a food marketing professor at Saint Joseph's University in Philadelphia explains, "The number of people who think they benefit from going gluten-free is growing…People feel that they are choosing a healthier alternative when they buy gluten-free fare."
Thus, while Dunkin' has been known to deter healthy eaters with its carbohydrate-rich offerings, the company is now hoping these gluten-free options will change their minds and lure them back into stores.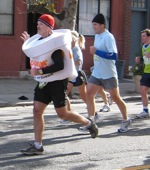 But the coffee and breakfast chain will also prove that, at least in terms of calories, the wheat-free alternatives are not always the healthier option. While Dunkin's glazed doughnut is 260 calories, a wheat-free doughnut packs in 320. Similarly, the 400 calories in a gluten-free blueberry muffin is higher than those in the standard version, and only 10 calories less than the reduced-fat choice.
Regardless, in the company's mind, Dunkin' customers can think whatever they want as long as the gluten-free label draws them into the store and helps the company boost sales. Its gluten-free options will cost more than the standard versions, with doughnuts likely priced around $1.89 and muffins at $2.39.
Don't Miss: Is McDonald's Ready for a Super-Sized 2013?