Good News for BlackBerry and BP, Analyst Defends Tesla: Market Recap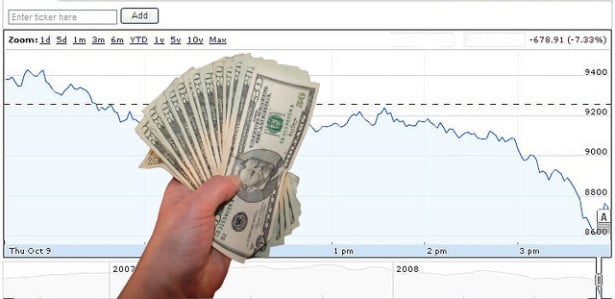 U.S. stocks fell as concerns grew that the government shutdown could lead to a recession. Talks between President Obama and congressional leaders haven't showed any progress towards reaching an agreement on the budget. Data released today showed that growth in the service industries was less than had been expected. The Institute for Supply Management's non-manufacturing index dropped to 54.4 in September from 58.6 in August. The Labor Department won't release the September payrolls report tomorrow because of the shutdown.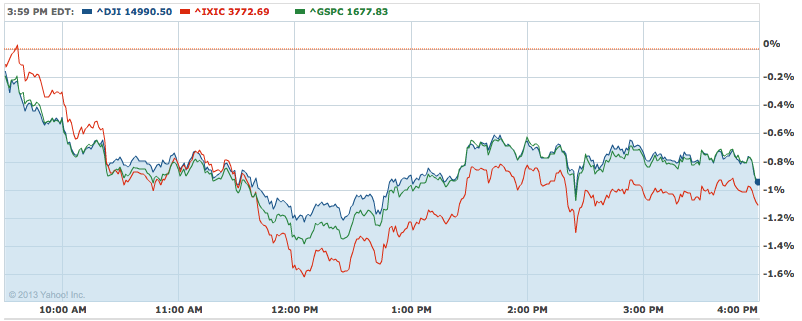 Gold: -0.25% to $1,317.40 per ounce Oil: -1.00% to $103.06 per barrel U.S. 10-Year: -0.76 to 2.606%
Business Activity Eases as Shutdown Plods On: Non-manufacturing business conditions in the United States continued to improve in September, according to the latest ISM Report on Business, albeit at a slower rate than before. The Institute for Supply Management reported that its index for the non-manufacturing sector declined 4.2 percentage points on the month to 54.4, the 45th consecutive month of growth.
Despite Slow Hiring, Jobless Claims Linger Near 2007 Levels: The number of Americans filing for initial unemployment benefits is one of the few reports trickling out of the shutdown federal government. Other reports, including the much-analyzed Employment Situation Report from the Department of Labor's Bureau of Labor Statistics, will be delayed — meaning that Thursday's jobless claims report will likely provide the strongest guidance this week of the health of the United States economy.
Report: Sequestration and Obamacare Pushing Up Layoffs: "It is important to remember that while it is critical for government spending to be reduced in order to shrink the nation's deficit, these cutbacks do not occur in a vacuum. They have real-world consequences that ripple throughout the economy. So, the push to cut federal spending, while absolutely necessary, is going to impact jobs both inside and outside of the government. We are seeing it in health care, education, and aerospace and defense," John Challenger said in a Thursday report from the global outplacement consultancy firm Challenger, Gray & Christmas.
Here's your cheat sheet to today's top stocks stories:
Tesla's (NASDAQ:TSLA) stock sunk to new lows Wednesday, falling 6.24 percent and marking its steepest decline since July 16 of this year when it fell 14 percent. Several factors contributed to the increased investor doubt in Tesla, but a Deutsche Bank analyst Dan Galves alleviated worry Thursday morning when he reiterated his Buy rating and $200 price target on Tesla Motors.
BlackBerry (NASDAQ:BBRY) has private-equity firm Cerberus Capital Management LP to thank for its recent stock rise. BlackBerry shares were up 1 percent on Wednesday in New York, and although the appreciation was slight, it still reflected a reverse to the significant 33 percent slump Blackberry has witnessed over the past 12 months.
Constellation Brands (NYSE:STZ) shares are up as the company reports EPS of $0.96, beating by $0.08, while revenues fell $0.07 billion shy or projections at $1.46 billion. Constellation also raised its guidance as the quarter saw consolidation of new acquisitions into the business. Constellation is also betting that wine and spirits volume will pick up in the back half of the year.
BP's (NYSE:BP) civil trial in the district court in New Orleans has shown BP's efforts to convince Judge Carl Barbier to tighten the standards by which the court-appointed administrator Patrick Juneau evaluates compensation claims made by the individuals and business harmed by BP's 2010 Gulf of Mexico oil spill. Finally, the company has won a measure of legal reprieve. In a 2-1 decision on Wednesday, the 5th U.S. Circuit Court of Appeals in New Orleans directed Barbier — who had approved of Juneau's evaluation methods back in March — to reexamine the administrator's payout formula.
United Technologies (NYSE:UTX), which supplies the U.S. military with helicopters and jet engines, has said that 5,000 jobs may be at risk due to the government shutdown. United Technologies said on Wednesday in an announcement seen by Bloomberg that an extended shutdown would lead to 2,000 jobs in Connecticut, Florida, and Alabama being cut on October 7. Two thousand more layoffs within United Technologies would occur at Pratt & Whitney and UTC Aerospace Systems if the shutdown extended into the next week.
Facebook (NASDAQ:FB) announced this week that it is constructing a $120-million, 394-unit housing community that will sit within walking distance of its offices in Menlo Park, California. The new rental property will span 630,000 square feet and will offer employees a convenient and affordable place to live that is near the Facebook campus.
Follow Jacqueline on Twitter @Jacqui_WSCS
Don't Miss: Court Asks: Could BP Have Handled Gulf Spill Better?