Good News for Ford Shareholders
It's a good time to be a Ford (NYSE:F) shareholder. On Thursday, the company announced that it will be doubling its dividend in the first quarter of 2013, from $0.05 to $0.10 per share, with the intention of increasing the dividend further as the company grows.
Then, just in case anyone had any doubts that things have turned around in the wake of the financial crisis for America's second-largest car maker, the company announced that it will be hiring 2,200 white-collar staff in the United States. The announcement comes after a year of phenomenal growth — the company added 8,100 salaried and hourly positions in 2012 on the back of a 4.7 percent annual increase in sales.
Start 2013 better than ever by saving time and making money with your Limited Time Offer for our highly-acclaimed Stock Picker Newsletter. Get our fresh Feature Stock Pick now!
Unsurprisingly, the markets have reacted favorably to all the good news. Shares are up 8.11 percent in 2013, after climbing nearly 25 percent in 2012. The company's best December sales since 2006 indicate strength heading into a 2013 car market that is expected to grow to a total of 15.5 million vehicle sales from 14.5 million in 2012…
But it's not all sunny skies for Ford. The company saw its 2012 market share in the U.S. fall from 16.8 percent to 15.5 percent, echoing a similar decline for General Motors (NYSE:GM), which saw its market share fall from 19.6 percent in 2011 to 17.9 percent in 2012. Meanwhile, competitors such as Chrysler, Toyota (NYSE:TM), and even Honda (NYSE:HMC) grew their market share for the year.
Ford's total vehicle sales grew 4.7 percent in 2012, which pales in comparison to 20.6 percent growth for Chrysler and 26.6 percent growth for Toyota. To its credit, Ford's annual growth beat out GM, which clocked in at 3.7 percent for the year, but Ford is ending the year on a weaker foot. The company's record December sales translates into year-on-year growth of just 1.6 percent, while GM logged 4.9 percent growth for the month.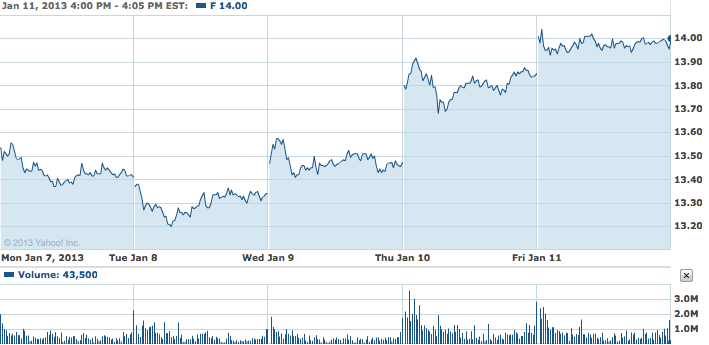 Investing Insights: Can General Motors Re-Take the Title of Top Global Automaker?