The Wall Street Journal reported Tuesday that effective September 20, Alcoa (NYSE:AA), Hewlett-Packard (NYSE:HPQ), and Bank of America (NYSE:BAC) would no longer be components of the Dow Jones Industrial Average. The companies will be replaced by Nike (NYSE:NKE), Visa (NYSE:V), and Goldman Sachs (NYSE:GS), respectively.
The first iteration of the Dow Jones Industrial Average as we know and love it today was first calculated in May 1896 with just 12 components. Of those 12, only General Electric (NYSE:GE) remains part of the index, which now boasts 30 of America's most recognizable blue-chip companies: Exxon Mobil (NYSE:XOM) joined in 1928, Procter & Gamble (NYSE:PG) joined in 1932, and DuPont (NYSE:DD) joined for good in 1935.
Because the index samples what are effectively the country's largest and most successful companies, it has served as a benchmark for U.S. business and economic conditions for more than a century. The DJIA is a barometer that economists, traders, investors, and business leaders use to inform their understanding of the environment in which they operate. The index is price weighted, meaning that the headline reading is a weighted function of the stock prices of its components: the higher the stock price, the heavier its weight.
The Dow Jones Industrial Average is also a curated index, and its components are reviewed on an as-needed basis. The index is managed by the Averages Committee at S&P Dow Jones Indices, a joint venture between McGraw Hill Financial (NYSE:MHFI), CME Group (NASDAQ:CME), and Dow Jones & Company, a subsidiary of News Corp. (NASDAQ:NWSA), which also owns the WSJ.
For the companies being replaced, the transition has been a long time coming. Alcoa joined the index in 1959, and for a long time, its position in the pantheon was undisputed, given its status as the third-largest producer of aluminum on the planet. However, the past few years have not been kind to company. Shares are down more than 10 percent on the year and by more than 70 percent over the past five years. The company's stock price crashed from as high as $40 to nearly $5 in the wake of the late-2000s financial crisis — at just about $8 now, Alcoa has largely failed to regain its former glory.
The company did shine up a bit in July, when it beat expectations with its second-quarter earnings: sales declined 1.8 percent on the year to $5.85 billion but still beat estimates of $5.83 billion; adjusted net income of $76 million, or 7 cents per share, beat estimates for 6 cents per share (unadjusted income was a loss of $119 million, or 11 cents per share).

Hewlett-Packard and Bank of America have had fairly good runs this year to date, climbing 48 percent and 20 percent on the stock chart, respectively. Still, both are down dramatically from their pre-crisis levels, one battered mercilessly by the financial crisis and the other struggling to keep up with its industry.
Here's how the Dow performed at the end of August, as calculated and presented by S&P Dow Jones Indices: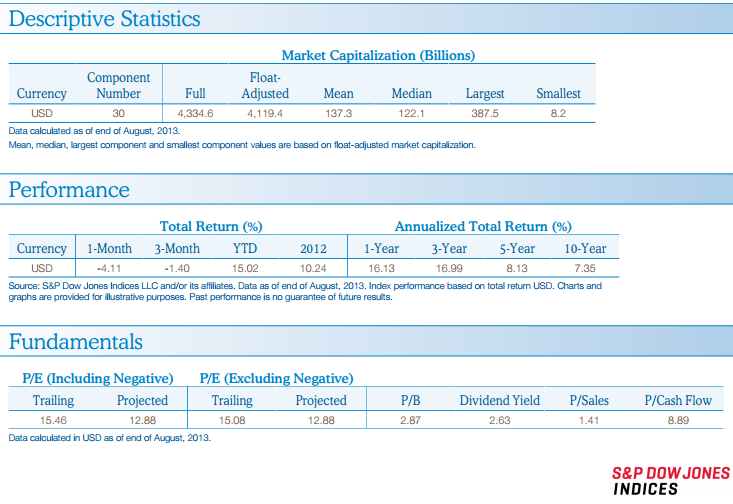 Don't Miss: Don't Worry: The NSA Is Monitoring the Global Economy for Us.