Goodyear Moves to Close Amiens North and 3 Morning Hot Stocks Making Waves
Michael Kors Holdings Ltd (NYSE:KORS): Current Price $63.96
Luxury lifestyle brand retailer Michael Kors Holdings Ltd (NYSE:KORS) reports FQ3 EPS of $0.64 and revenue of $636.8 million, beating by $0.23 and $96.5 billion, respectively. Compared to the same period last year, revenue during the quarter increased 70.4%, driven by retail net sales that rose 66.8% to $332.6 million while comparable stores retail net sales grew 41.4%. On the other hand, wholesale net sales were up 77.4% to $274.3 million and licensing revenue jumped 52.1% to $29.8 million.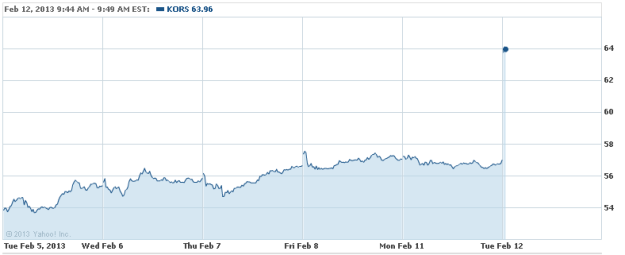 Coca-Cola (NYSE:KO): Current Price $37.87
Coca-Cola (NYSE:KO) reports Q4 EPS of $0.41 and revenue at $11.46 billion, up 4% annually, compared with consensus of EPS of $0.44 and revenue of $11.54 billion.The quarter was notable for global volume growth of 3% which was driven by international volume growth of 4% and North American volume growth of 1%. Operating income in the quarter was up 68%, though comparable currency neutral operating income grew 14%.
Are these stocks a buy or sell? Let us help you decide. Check out our Stock Picker Newsletter now.

Goodyear Tire & Rubber (NYSE:GT): Current Price $13.23
Goodyear Tire & Rubber (NYSE:GT) moves to close the Amiens North plant in France, the location where it produces consumer and farm tires, in accordance with its announcement January 31 that it intended to exit the farm tire business across Europe, Middle East and Africa regions. The company has started discussions with the various labor bodies, including employee representatives in connection with the proposed action which would result in a profit improvement of $75 billion annually.

Bristol-Myers Squibb Co (NYSE:BMY): Current Price $36.73
Reckitt Benckiser (RBGPY.PK) pays $438 million upfront to acquire the rights from Bristol-Myers Squibb Co (NYSE:BMY) to sell certain over-the-counter medicines in Latin America for a period of three years. These OTC medicines include antacid Picot, pain and fever reducer Tempra, antifungal Micostatin and cough and cold medicine Graneodin. According to the arrangement, Bristol-Myers Squibb will be responsible for the manufacture of the medicines included in the agreement while Beckett will buy these products from Bristol-Myers Squibb and pay royalties on sales. "As part of our BioPharma strategy, Bristol-Myers Squibb has worked to focus its businesses around the world on innovative medicines in areas of high unmet medical need," Chief Financial Officer Charles Bancroft said. "This agreement allows us to increase our focus on the launch and commercialization of our innovative portfolio in these important markets in Latin America."

Don't Miss: Is Alcatel-Lucent Likely to Outperform?