Google Adds to Pandora's Headaches and 3 More Hot Stocks
Google (NASDAQ:GOOG): It was only a matter of time, but it appears that time has come. Google is planning on launching its own music streaming service to compete with the likes of Spotify, and could announce the program at the Google I/O conference on Wednesday. The service would notably compete more with Spotify than it would with Pandora (NYSE:P), as Google's paid subscription model more closely mimics that of the former, whereas the bulk of Pandora's users take advantage of the service's free nature.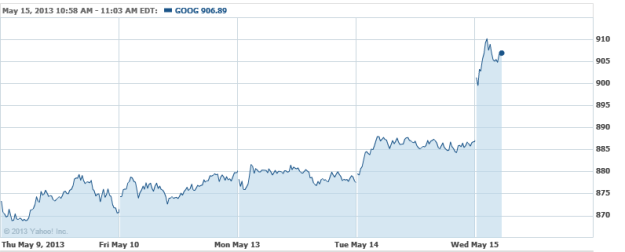 Citigroup (NYSE:C): Itau Unibanco Holding (NYSE:ITUB) has agreed to shell out $1.37 billion for Citigroup's CrediCard, which will award the Brazilian bank an additional 10 percent in the country's credit card market. Itau, which helped create the CrediCard program, will gain about 4.8 million accounts, while Citigroup will make about $300 million on the sale.

Aeropostale (NYSE:ARO): Shares of Aeropostale are up over 8 percent, after BMO Capital graced the company with an upgrade from Market Perform to Outperform and a raised $20 price target. BMO finds that the retailer has a number of sales drivers working for it, including a strong spring assortment and new store format.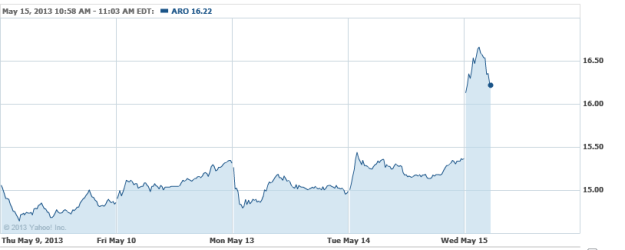 J.C. Penney (NYSE:JCP): The board at J.C. Penney is finding that CEO Mike Ullman, who was pushed out to make way for Ron Johnson and his failed turnaround, might have been the man for the job after all. Bill Ackman, who has a substantial interest in the company, is finding himself in a rather uncomfortable position, as he led the crusade against Ullman and pushed for Johnson's installment. The company might keep Ullman around longer, even though his sitting in was only intended to be temporary.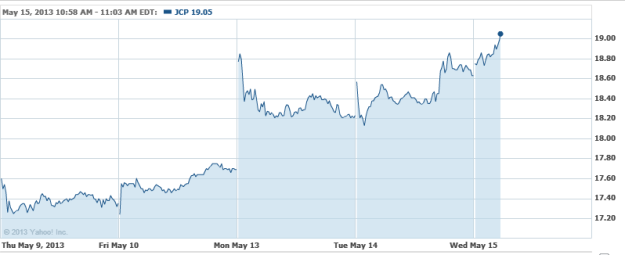 Don't Miss: Is the iPhone 5S Ahead of Schedule?