Google and 13 Stocks Making M&A Rumors and News This Week
Here's your Cheat Sheet to this week's top mergers and acquisition news:
Google (NASDAQ:GOOG): Current price $801.42
A source says that Google is close to purchasing the Seattle-based news reading startup Wavii. Both Wavii and Google would not comment to Business Insider on the matter, but the publication has been told the likely transaction price is under $30 million. The startup was founded in March 2009, and stayed in stealth mode for several years, raising $2 million in seed funding from an impressive list of investors that includes Felicis Investments, SV Angel, CrunchFund, Mitch Kapor, Max Levchin, and others, said CrunchBase.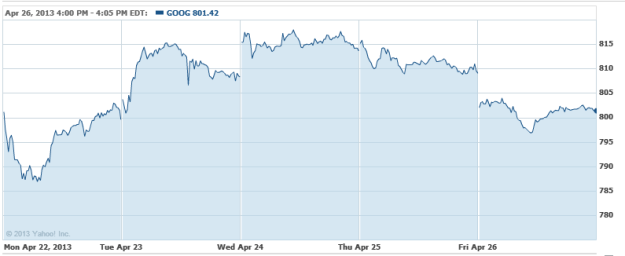 Dell (NASDAQ:DELL): Current Price $13.35
According to sources cited by DJ, the activist investor Carl Icahn is holding back on a potential hostile offer for Dell. That update follows a report that Blackstone (NYSE:BX) has withdrawn its bid after first quarter PC shipments dropped by 14 percent, which led to early calls by several analysts who forecast that Michael Dell and Silver Lake's $13.65-per-share offer will take the prize. Earlier, Peter Misek at Jefferies said that Dell would not likely see a higher bid following Blackstone's withdrawal.
Are these stocks a buy or sell? Let us help you decide. Check out our Stock Picker Newsletter now.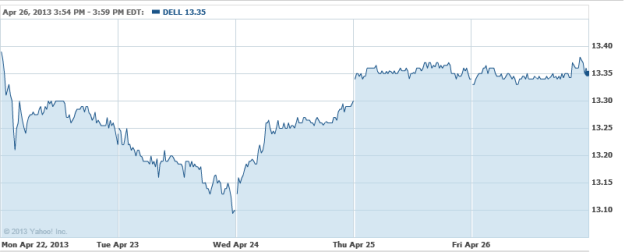 Telecom Italia (NYSE:IT): Closing price $56.75
On Monday, two knowledgeable sources said that the phone company, which is exploring a separation of its fixed-line assets, might consider a sale of an initial 30 percent interest in a new company to the state lender Cassa Depositi e Prestiti. The sources also related that the carrier might let Rome-based CDP increase its holdings over time. Telecom Italia might transfer up to 10 billion euros  in debt to the new firm, which will use own its fixed-line network, and CDP may invest roughly 2 billion euros initially. Another source said that Telecom Italia might also explore an initial public offering of the division in the future.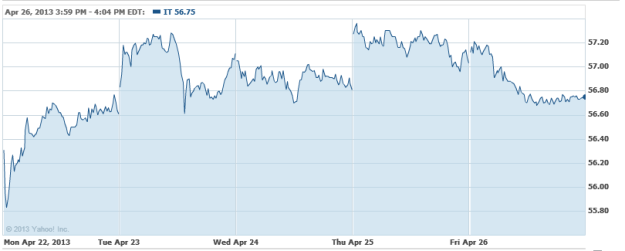 Don't Miss: Is This Fine Large Enough To Stop Google's Data Violations?
Lloyds Banking Group  (NYSE:LYG): Current price $3.28
Knowledgeable sources say that Lloyds is searching for a buyer for its 400-million-pound, or $609 million, portfolio of shipping loans, who also said that for the past two years, the United Kingdon-owned bank has been divesting parts of a 6-billion-pound book of loans that were granted for the building of commercial vessels. It was  not clear what price Lloyd's is seeking. The sources said that Lloyds has turned to American hedge funds to rid itself of the distressed debt as other banks that typically engage in ship finance are dealing with their own problem loans.
Are these stocks a buy or sell? Let us help you decide. Check out our Stock Picker Newsletter now.

International Paper (NYSE: IP): Current price $46.46
The firm has announced that it is in discussions with Unisource concerning a proposed business merger of International Paper's distribution unit and Unisource.  Both xpedx and Unisource are business-to-business distributors of printing, packaging and facility supplies. The talks began when Unisource approached International Paper about a possible combination, and on April 19th, the parties entered into a non-binding letter of intent through which to explore a possible transaction.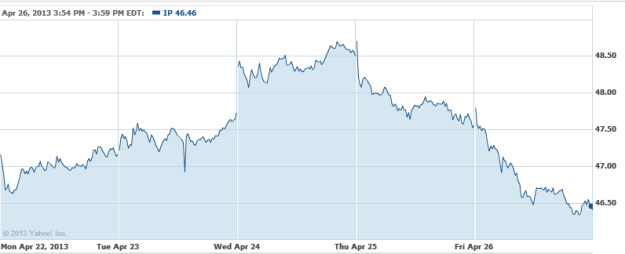 CA Technologies (NASDAQ:CA): Current price $25.98
CA Technologies has signed a definitive agreement to purchase Layer 7 Technologies, which provides Application Programming Interface  management and security. The financials of the transaction were not divulged. The acquisition of Layer 7 will permit CA Technologies to manage and secure the API marketplace with top tech that complements its present Identity and Access Management suite, including CA SiteMinder, and its technologies that are concentrated on DevOps including the CA LISA suite.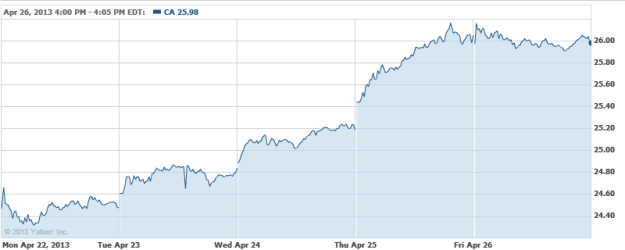 Don't Miss: Are Americans Falling for Bernanke's Wealth Effect?
MetroPCS Communications (NYSE:PCS): Current price $11.89
On Wednesday, PCS shareholders okayed a merger with the United States wireless service provider T-Mobile USA, following the T-Mobile parent Deutsche Telekom sweetening its offer under pressure from activist shareholders. The agreement was first reported in early October 2012, and had doomed to collapse until earlier in April, when Deutsche Telekom caved to pressure to lower the combined entity's debt. Activist shareholder P. Schoenfeld Asset Management had run a proxy battle against the original arrangement, while the number-one MetroPCS shareholder, Paulson & Co., had also threatened to oppose it. Now, both investors indicate that they are pleased with the improved terms.
Are these stocks a buy or sell? Let us help you decide. Check out our Stock Picker Newsletter now.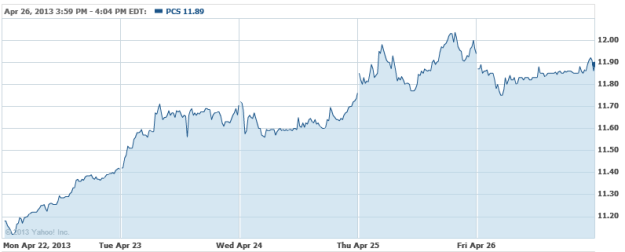 Buckeye Technologies (NYSE:BKI): Current price $37.61
Buckeye and Georgia-Pacific reported Wednesday that the latter will purchase all of the outstanding shares of Buckeye's' common stock at a cash price of $37.50 per share. The transaction is valued at roughly $1.5 billion, which includes debt. Through the terms, which have been unanimously cleared by both parties' boards, stockholders of Buckeye Technologies will receive $37.50 in cash per share, marking a premium of around 29 percent based on the average close of Buckeye Technologies' common stock during the past week.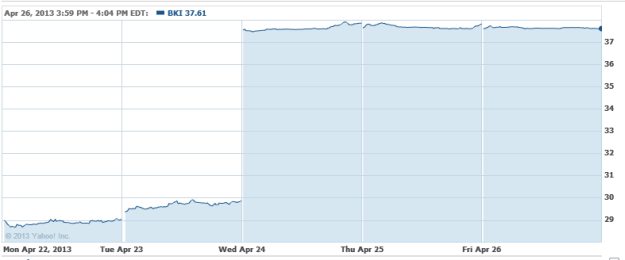 OPKO Health (NYSE: OPK): Current price $6.92
On Wednesday, OPKO and PROLOR Biotech (NYSE: PBTH) said that they have signed a definitive merger agreement under which the former will purchase the  biopharmaceutical firm PROLOR in an all-stock transaction. Under the agreement, holders of PROLOR common stock will receive 0.9951 shares of OPKO common stock for each share of PROLOR they hold.  Calculated on a price of $7.03 per share of OPKO stock, the transaction is valued at about $480 million, or $7 per share of PROLOR.  The acquisition should be completed during the second half .
Are these stocks a buy or sell? Let us help you decide. Check out our Stock Picker Newsletter now.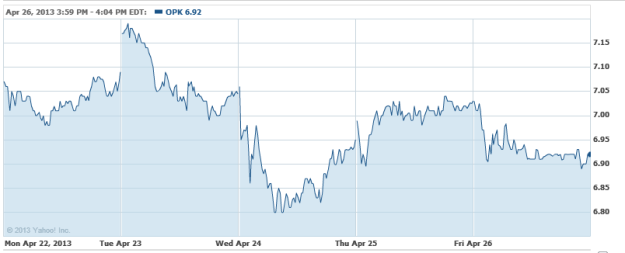 First Solar (NASDAQ:FSLR): Current price $44.08
First Solar has divested its 139-megawatt Campo Verde Solar Project to the Southern Company subsidiary Southern Power and Turner Renewable Energy. Through the terms, First Solar will finish construction of the project and will then operate and maintain the power plant for 10 years. Construction of the Campo Verde project commenced in December and commercial operation is expected in the fall of 2013. The project is located on a 1,443-acre site in Imperial County, California and should generate enough clean electricity to power almost 48,000 homes, displacing yearly 80,000 metric tons of CO2, which is the equivalent of taking 15,000 cars off the road. Under a 20-year power purchase arrangement, San Diego Gas & Electric Company will purchase the project's output.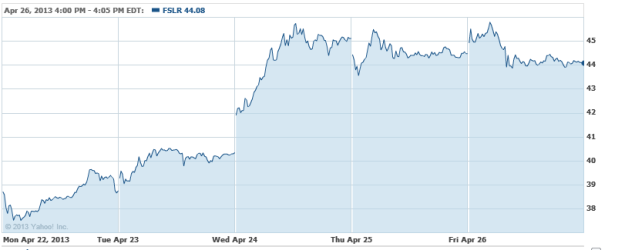 Don't Miss: Is GM Really Making the Cleanest Car in America?
Verizon Communications (NYSE:VZ): Current price $53.67
Two knowledgeable sources say that Verizon has hired advisers to prepare a potential $100 billion offer to take full control of Verizon Wireless from its partner Vodafone Group (NASDAQ:VOD). Verizon is said to be mulling an approximate 50/50 cash and stock bid for the 45 percent interest in Verizon Wireless that it does not already own. As of late Wednesday, the sources reported that it has not put a proposal to Vodafone, but the company has hired banking and legal advisers for a possible offer, and also that there are no guarantees that Vodafone will be interested in a deal or that any bid will come forth. However, they did say that Verizon was ready to push assertively and hopes to initiate discussions with Vodafone in the near-term for a 'friendly' agreement.
Are these stocks a buy or sell? Let us help you decide. Check out our Stock Picker Newsletter now.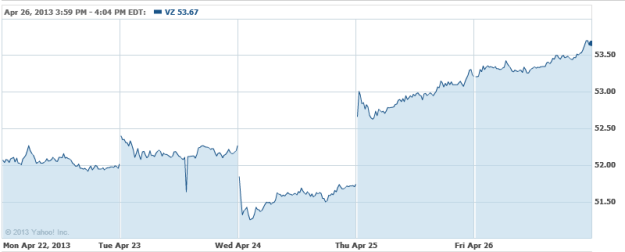 Cobalt International Energy (NYSE:CIE): Current price $28.26
The oil explorer Cobalt has doubled in value since it went public in 2009, now is looking like a takeover target for energy firms which are lured to its oil discoveries from Africato the Gulf of Mexico. The company has been elevated by offshore crude finds that Global Hunter Securities believes might yield a total drilling potential of up to 6 billion barrels of oil equivalent, which would equal almost all of the proved reserves of the OPEC member Ecuador, said data compiled by BP. Capital One Southcoast said that larger energy companies like Royal Dutch Shell may be enticed by the opportunity to reinforce crude resources, while Guggenheim Partners believes that suitors could include Chevron Corporation (NYSE:CVS), Exxon Mobil Corporation (NYSE:XOM), and/or ConocoPhillips (NYSE:COP).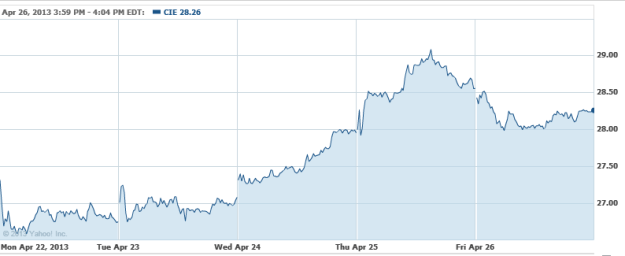 Telefonica (NYSE:TEF): Current price $14.30
Inside sources report that Telefonica is mulling the divestiture of its broadband Internet and phone unit in Germany, during a surge in investor interest in European fixed-line assets. The division, with 2.4 million broadband customers as part of Telefonica Deutschland Holding, could be sold to one of its competitors in that country, according to two of the sources, who also said that the company is also thinking about sharing its wireless network with another carrier along with a full merger with Royal KPN's E-Plus, but no decision has thus far been made.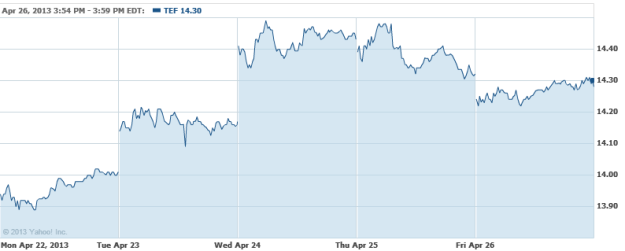 Baidu (NASDAQ:BIDU): Current price $85.02
The online video business of Baidu iQiyi is said to have acquired the Shanghai-based video streaming platform PPStream for between $350 million to $400 million. A spokesperson for Baidu would not confirm the reports, which have been percolating in the Chinese media since the end of March, but a statement issued by the chief of the competitor video platform Youku-Tudou seems to confirm that an agreement has indeed been reached.
Are these stocks a buy or sell? Let us help you decide. Check out our Stock Picker Newsletter now.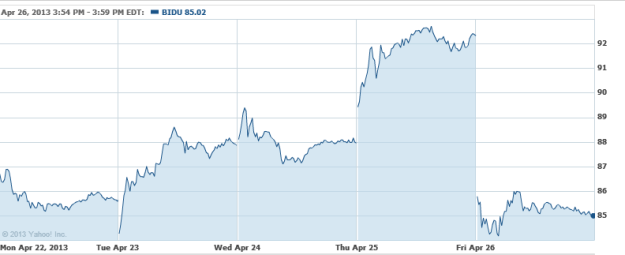 Don't Miss: Most Americans Missed the 'Economic Recovery.