Google Can't Satisfy EU, JPMorgan Makes a Key Hire, and 3 More Hot Stocks
Google (NASDAQ:GOOG): Following a drawn-out, three-year long antitrust investigation into its practices in Europe, the EU's Competition Commissioner Joaquin Almunia said that the Union would likely put more concessions on Google, in addition to the proposals already submitted by the Internet search giant. "After, we will analyze the responses we have received, we will ask Google, probably, I cannot anticipate this formally, almost 100 percent we will ask Google: you should improve your proposals," Almunia said.

JPMorgan Chase & Co. (NYSE:JPM): JPMorgan has brought on David Leahy, formerly of Credit Suisse (NYSE:CS), to be its managing director and head of Asia-Pacific prime services sales. The move is part of a continuing trend to build up hedge funds businesses in the region, which is a rapidly growing area for investment banks.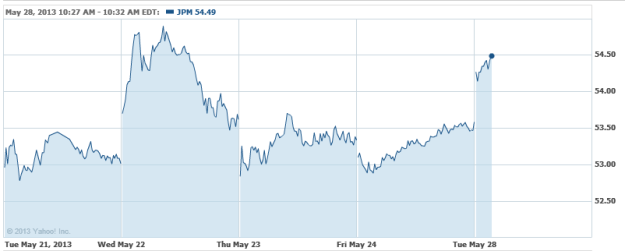 LM Ericsson Telephone Company (NASDAQ:ERIC): ST-Ericsson, the joint venture between Ericsson and STMicroelectronics (NYSE:STM), has announced the sale of its mobile connectivity (Bluetooth, Wi-Fi, FM radio) and GPS chip business as well as its associated intellectual properties to an unnamed "leading semiconductor company," for an undisclosed price. The sale is a needed break after the unit was unable to find a buyer for the entire entity as a whole.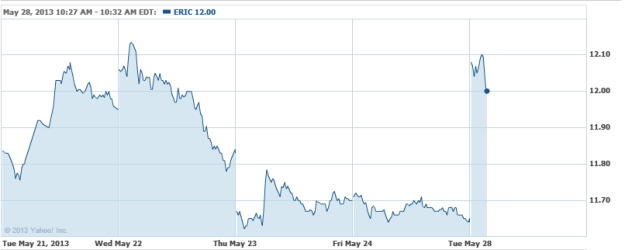 PharmAthene, Inc. (AMEX:PIP): Shares are ripping over 33 percent in the wake of a decision from the Delaware Supreme Court to uphold a previous ruling against SIGA Technologies (NASDAQ:SIGA), against accusations that it breached its contractual obligations. "We are pleased by this positive decision from the Delaware Supreme Court, which conclusively affirms SIGA's liability for its failure to negotiate the terms of a license agreement with us in good faith," said Eric I. Richman, President and CEO.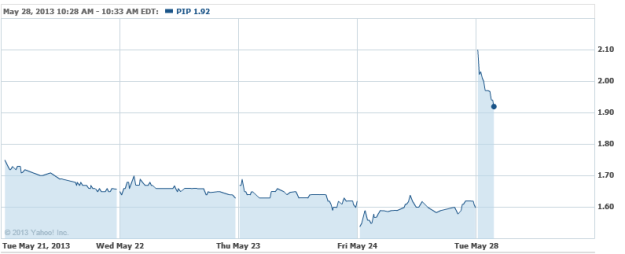 Hertz Global Holdings, Inc. (NYSE:HTZ): A bullish post courtesy of Barron's is helping to lift shares of Hertz after the long holiday weekend. The article makes the case for a 70 percent rise in share value over next year or two, and added that for every 1 percent edge it gains in pricing, it can boost pretax profit by close to 6 percent.

Don't Miss: What Can Google Now Really Do?