Google Earnings: Larry Page Rattles Investors
Revenue growth helped S&P 500 (NYSE:SPY) component Google Inc. (NASDAQ:GOOG) boost profit in the first quarter, but the company missed estimates. Google Inc. provides search and advertising services and makes this information freely available to anyone with an Internet connection.
Google Earnings Cheat Sheet for the First Quarter

Results: Net income for the internet information provider rose to $2.3 billion ($7.04/share) vs. $1.96 billion ($6.06/share) YoY. A rise of 17.5% from the year earlier quarter.

Revenue: Rose 26.6% to $8.57 billion YoY.

Actual vs. Wall St. Expectations: GOOG fell short of the mean analyst estimate of $8.11/share. Estimates ranged from $7.58 to $8.56.

Quoting Management: "We had a great quarter with 27% year-over-year revenue growth," said Patrick Pichette, CFO of Google. "These results demonstrate the value of search and search ads to our users and customers, as well as the extraordinary potential of areas like display and mobile. It's clear that our past investments have been crucial to our success today–which is why we continue to invest for the long term."

Key Stats:
The company has enjoyed double-digit year-over-year revenue growth for the past five quarters. Over that span, the company has averaged growth of 24.4%, with the biggest boost coming in the most recent quarter when revenue rose 26.6% from the year earlier quarter.
With a 17.5% profit increase last quarter, the company has now enjoyed five-straight quarters of double-digit year-over-year profit growth. Over that span, the company averaged 28% net income growth, with the largest boost being a 37.4% hike in the first quarter of the last fiscal year.
Insider Activity: Wall St. Watchdog says insider activity is negative.
Competitors to Watch: Apple (NASDAQ:AAPL), Yahoo (NASDAQ:YHOO), Microsoft (NASDAQ:MSFT), eBay (NASDAQ:EBAY), Amazon (NASDAQ:AMZN), Bidu (NASDAQ:BIDU), Oracle (NASDAQ:ORCL), Research in Motion (NASDAQ:RIMM), and AOL (NYSE:AOL).

Today's Performance: Shares of GOOG are down more than 4% in after hours trading.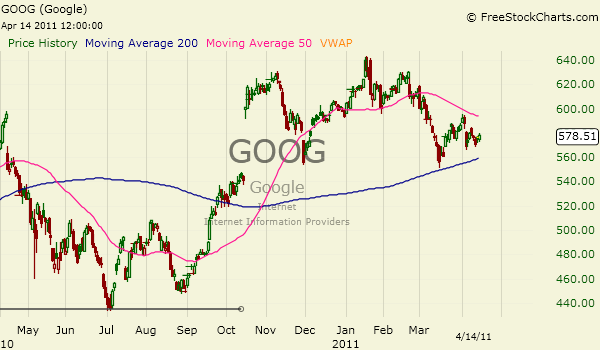 Don't Miss Wall St. Cheat Sheet's newest Feature Trades of the Month!