Google Generates 6 Times More Revenue Per User than Facebook
Facebook is back in the spotlight today after raising $500 million from Goldman Sachs (NYSE:GS) and a Russian investor. With all the hype that Facebook may go public in the near future, now is a great time to take a look at whether Facebook users are particularly valuable when compared to the competition: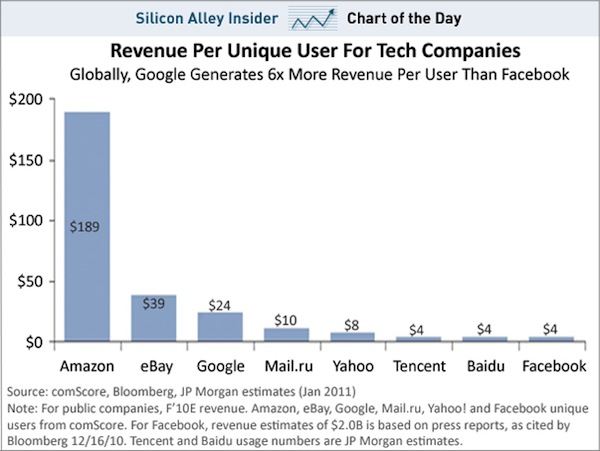 (Source: Business Insider)
As we can see, Facebook still has an issue with monetizing users. I, for one, have never clicked on a single ad on Facebook or ever cracked my wallet to use the service in almost 5 years. But I've seemingly behaved more like others in my consistent purchases and ad clicking via Amazon (NASDAQ:AMZN), eBay (NASDAQ:EBAY), Google (NASDAQ:GOOG), and Yahoo (NASDAQ:YHOO).
With a problem comes opportunity. If you believe the chart above demonstrates upside potential for Facebook revenue per user, then you should be calling Goldman today and sending over the steel case with $2 million in cash.
On the other hand, if you believe sites like Diaspora and other new social networking platforms will slowly steal market share from Facebook, you may save your $2 million for a sunnier opportunity.
Do you think Facebook is undervalued or headed for big challenges? Let us know in the comments below …
Start Off 2011 by Improving Your Financial Health: Join the winning team of stock pickers with Wall St. Cheat Sheet's acclaimed premium newsletter >>