Google Gets in Amazon's Business
In a move that seeks to broaden its revenue base beyond its web search roots, Google (NASDAQ:GOOG) has introduced a new online shopping service that will make a limited test run in the San Francisco area. According to Brian Womack at Bloomberg, the shopping service is called Google Shopping Express and it will feature a same-day delivery service.
Google's novel foray into the world of e-commerce will allow it to directly compete for customers against Amazon (NASDAQ:AMZN). Although the program is still in the early testing phase, it might be priced competitively to what Amazon charges for its Amazon Prime service, according to Alexa Tsotsis at TechCrunch.
Besides offering a same-day delivery service, the pilot program will also allow users to combine various items from different retailers into one purchase and delivery transaction that will be handled by Google.
Participating retailers include several large chain stores such as Target Corp. (NYSE:TGT), Walgreen Co. (NYSE:WAG), Toys "R" Us Inc., Staples Inc. (NASDAQ:SPLS), and American Eagle Outfitters Inc. (NYSE:AEO). However, some smaller businesses, such as the family-owned Nob Hill Foods are participating, as well as the locally-based Blue Bottle Coffee Company.
Google is still enlisting beta testers for this new shopping program, so if you are interested, you can sign up and try it yourself.
Google closed down 1.06 percent at $794.19 on Thursday, while Amazon closed up 0.45 percent at $266.49.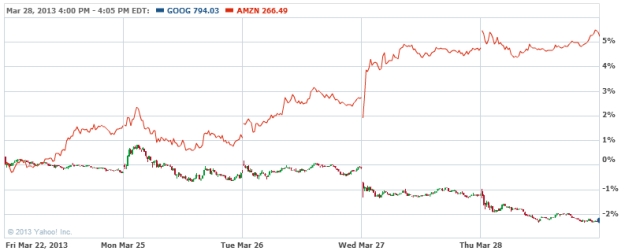 Don't Miss: Is Google Glass Stealing This Apple Partner?