Google Gives Banners a Shot, Boeing's Big Order, and 3 More Hot Stocks
Google Inc. (NASDAQ:GOOG): Despite once pledging to never use banner ads, Google is testing just that with a slate of 30 advertisers. The ads will appear if a user makes a brand-specific search query within Google's search engine; this falls in direct conflict with Google's statement from 2005, which said "there will not be crazy, flashy, graphical doodads flying and popping up all over the Google site. Ever." Southwest Airlines, Crate & Barrel, and Virgin America are among those giving the ads a shot. The test is showing for less than 5 percent of search queries.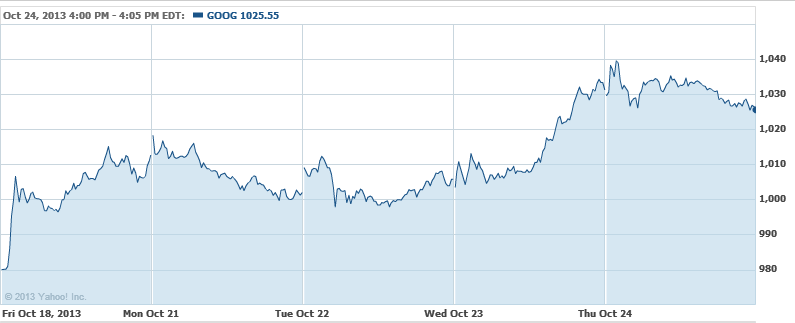 Boeing Co. (NYSE:BA): Boeing has won a $3.7 billion deal with Korean Air to supply the airline with five 747-8 Intercontinentals, five 777-300ERs and one 787 Dreamliner. The 747 purchase will help Korean retire the 15 older 747-400 jets from its fleet by 2017; the carrier will begin taking delivery of the new planes in 2016.

Hershey Co. (NYSE:HSY): Hershey has reported earnings per share of $1.04, beating by 3 cents, though revenue of $1.85 billion missed by $0.03 billion. However, Hershey's made broad gains in volume across all categories; the gross margin rate improved by a substantial 300 bps, as lower commodity prices and supply chain productivity helped boost its bottom line.

Under Armour Inc. (NYSE:UA): Despite EPS of 68 cents — beating by 2 cents — and revenue of $723 million (beating by a substantial $13.31 million), shares of Under Armour are selling off to the tune of nearly 5 percent; the inventory growth number appears to be causing concerns for some. The company's gross margin was 48.4 percent, compared with 48.7 percent for the prior year's quarter, primarily reflecting higher import duties, though partially offset by the net impact of lapping the prior year's sourcing challenges, the company said.

Dow Chemical Co. (NYSE:DOW): EPS of 50 cents missed expectations by 4 cents, while revenues of $13.73 billion also missed, by $0.27 billion. Volume dropped by 2 percent — with all major regions except Latin America posting lower volume — though prices rose 3 percent; sales in the performance materials unit fell 3 percent, performance plastics sales grew 3.3 percent, and sales in feedstock and energy dropped 7.7 percent.

Don't Miss: Ford Accelerates Outlook and Drives Toward Fresh Highs.