Google May Pay $1B for WhatsApp and Four Other Hot Stocks
A rumour is doing the rounds that Google (NASDAQ:GOOG) may be eyeing top messaging app WhatsApp as a likely acquisition to plug what is clearly missing in its mobile strategy – a solid mobile messaging service. An article in digitaltrends.com cites sources to claim that discussions started for five weeks ago and that a deal could probably figure around the $1 billion mark. With communication services clearly the route to mobile monetisation, there has been speculation that Google would like to consolidate its different channels under one roof, such as Google Babel, and WhatsApp could be the candidate of choice. It has a massive user base that straddles over a 100 countries and 750 mobile networks and is clearly highly popular because it has consistently ranked as the number one paid app across over a 100 countries. It also has a revenue model in place with an attractive annual $0.99 subscription scheme and lucrative tie ups with various international telcos. If 2012 was the year for the acquisition of photo sharing apps, 2013 could well be the year for acquisitions in the messaging and social communications field, and a Google-WhatsApp deal could set the ball rolling.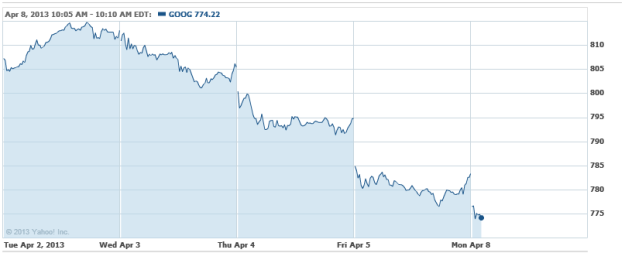 Chairman Gao Ji of Chinese solar panel marker Trina Solar Ltd (NYSE:TSL) lifted some of the gloom surrounding the industry by projecting that his company could climb out of its morass of losses as early as June. While analysts have forecast that the company could only achieve profitability by the fourth quarter of 2014, Gao said that excess capacity was being worked off due to the elimination of weaker players, thereby reducing the extent of excess global supply that was pressuring prices. Speaking at a forum in South China, he also said that rising Chinese demand for green energy was another positive factor that could lead to domestic sales being as high as 25 percent of total sales this year compared to about 10% in 2012. Perhaps, in clinching evidence of a likely turnaround, Gao said sales during the first quarter were "not bad," and that the company worked overtime during the Lunar New Year.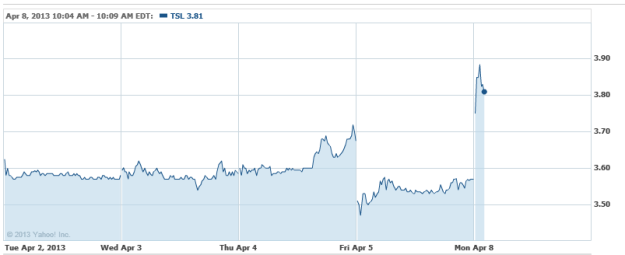 In yet another oil spill disaster, this time near Brazil, thick marine fuel that is used to power oil tankers spilled out of an oil terminal operated by Transpetro, a logistics unit owned by Brazilian state-owned oil company, Petroleo Brasileiro (NYSE:PBR). The dense oily globs of marine fuel washed up at the Capricornio, Massaguacu and Cocanha beaches near the city of Caraguatatuba, where over 100 workers were engaged in a cleanup operation. A report in the Wall Street Journal quotes Eduardo Hipolito do Rego, Sao Sebastiao's environment secretary: "There is still oil along the coast, covering rocks, vegetation and mangrove swamps. We're going to demand that Transpetro clean up these areas, too."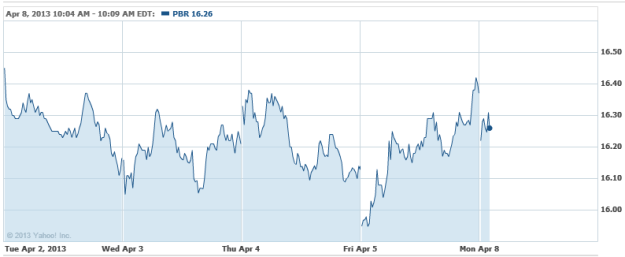 Safeway Inc (NYSE:SWY), the second-largest US grocery chain, makes good on its September promise to take its BlackHawk gift card and payment service public. Blackhawk Network Holdings Inc is floating 10 million class A shares in the range of $20-$22 per share. The issue, to be offered exclusively by existing shareholders, could raise as much as $220 million at the higher end of the range. The stock would be listed on the NASDAQ exchange under the symbol "HAWK." Blackhawk earned revenue of $949 million during 2012 on its sales of prepaid gift, debit and telephone cards through retail outlets across the country, and earned a net income of $50.3 million.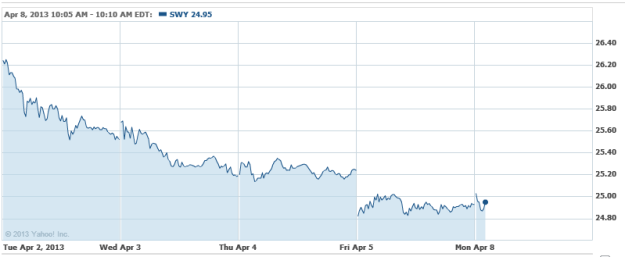 Procter & Gamble (NYSE:PG) is taking a break from a marketing emphasis on a younger male audience and is resurrecting interest in the old-fashioned bar soap by introducing a line of scented soap bars under the Old Spice brand this month. Old Spice is a brand favoured more by mature men, and the move by the company may seem odd, especially when bar soap sales have been lagging body wash by a wide margin. But the company justifies the move saying their surveys indicate that men actually prefer that cleaner feeling from bar soap, as also the fact that they grew up with it. Not to mention that it costs significantly less than body wash.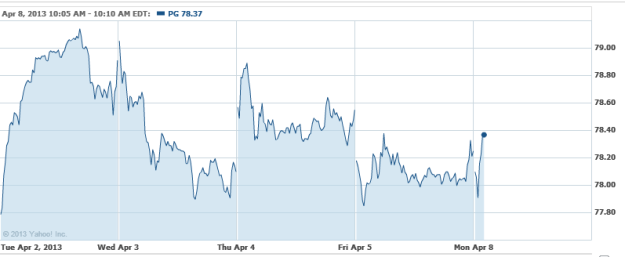 Don't Miss: Google Fiber Rumor Check: Is Austin, Texas on the Map?