Google Sets Off Bidding War With Facebook and 3 More Hot Stocks
Google (NASDAQ:GOOG): Following a stumble in Facebook's (NASDAQ:FB) bid for Israeli GPS firm Waze, reports have surfaced that Google is also making an attempt to bid on the company, opening up a bidding war with the social media site. However, TechCrunch is suspicious, saying that its sources have no indication that Google is making moves for the company — and that it could be an attempt from Waze to squeeze out as much as it can from Facebook.

International Business Machines Corp. (NYSE:IBM): CFO Mark Loughridge is predicting that the company's earnings will increase by 8 percent this quarter, falling in line with the overall industry expectations. Loughridge echoed that second-half performance would be strong (given first quarter performance was quite disappointing), and noted that he expects "double-digit performance" in the fourth quarter.

Proctor & Gamble (NYSE:PG): Former CEO A.G. Lafley is coming out of retirement to resume the helm in the wake of current CEO Bob McDonald's retirement at the end of June. Lafley will be started at a base salary of $2 million. Apparently, Doug Kass isn't a fan of Lafley; he shorted P&G's shares to between $81.50 and $82 in response to the "overreaction" to Lafley's re-appointment.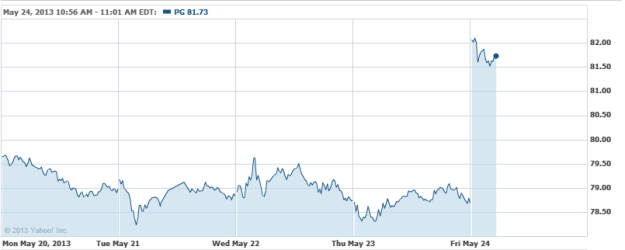 Sony Corp. (NYSE:SNE): Sony will be offering $1.5 billion worth of bonds in Japan, floating the debt to raise capital to pay down existing debt. As the first debt offering in the company's history, the electronics giant is looking to expand its fundraising options. Keep an eye on Daniel Loeb's response to the move, as he suggested spinning off the profitable entertainment division as a means to raise capital.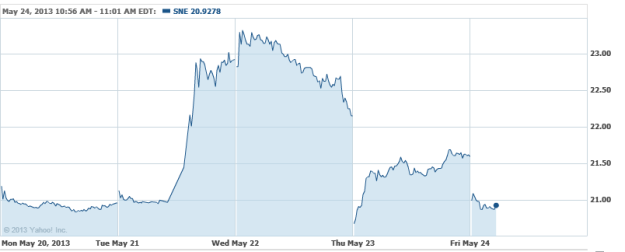 Don't Miss: Hedge Fund Baskets Are Full of Apple.