Google Settles Lawsuit, Netflix Signs With DreamWorks: Market Recap
U.S. stocks rose on Monday, but investors are still keeping a close watch on possible changes in the Federal Reserve's stimulus program. Investors are looking for data indicating economic growth, which would lead to the Fed beginning to scale back stimulus. Manufacturing and homebuilding are feeling more confident this month, according to data. The Fed is scheduled to meet Tuesday and Wednesday.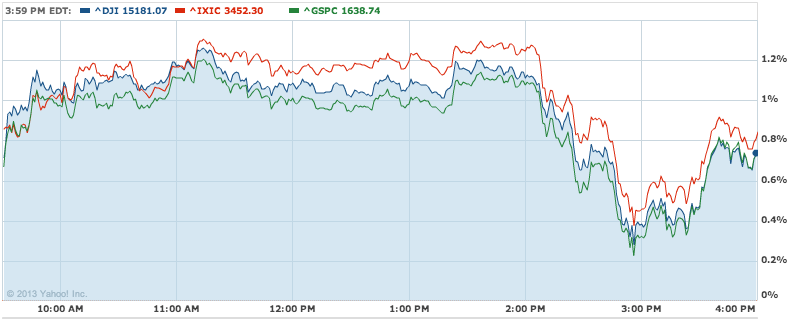 Gold: -0.28% to $1,383.70 per ounce  Oil: -0.01% to $97.84 per barrel  U.S. 10-Year: +2.12 to 2.17%
Manufacturing Outlook Worsens Despite June Recovery: Conditions for New York manufacturers improved modestly in June, according to the latest Empire State Manufacturing Survey. General business conditions — the survey's most comprehensive measure of economic sentiment and business outlook — climbed 9 points to 7.8, indicating growth after falling into negative territory in May. However, it's important to point out that the strong increase in the general business conditions index masks weakness in other key components… (Read more.)
Markets Don't Need a Fed Statement to Know Where QE Is Headed: We're not here to give out romantic advice, but the key to any relationship is communication. This is a lesson that central banks around the world — and the U.S. Federal Reserve in particular — are in the process of learning. Recent market volatility has been blamed on speculation about the future of quantitative easing, and it's unclear if confusion and uncertainty is the result of poor communication from the Fed, or the failure of of the market… (Read more.)
Wanted: Legal Experts to Navigate Obamacare: Keeping up with all the changes the Affordable Care Act is bringing to the American healthcare system is like "drinking from a fire hose," said Gavin Galimi, general counsel for March Vision Care, a company that manages vision benefits nationally for insurers that contract with Medicaid, Medicare and various state insurance exchanges being set up under the legislation. "Every company is worrying about what they forgot or don't know," he told The Wall Street Journal… (Read more.)
Here's your cheat sheet to today's stock stories: 
Verizon Wireless (NYSE:VZ) is reportedly looking to buy the small Canadian wireless provider Wind Mobile, as the country seeks to create more competition within its wireless market that consumers say is too expensive and lacking in choice. Other major wireless providers including AT&T (NYSE:T) and Britain's Vodafone have been considered as possible investors, but Verizon is seen as being the most likely buyer… (Read more.)
AT&T (NYSE:T) reportedly made a $93 billion offer for Spanish telecommunications company Telefonica that was blocked by the Spanish government, according to Spanish newspaper El Mundo. But Telefonica and Spain both deny ever hearing from AT&T about such a deal… (Read more.)
Netflix (NASDAQ:NFLX) has signed a deal with DreamWorks Animation (NASDAQ:DWA) that was the largest deal for original first-run content in the company's history, and its shares rose as much as 7 percent on the news Monday morning. Netflix's stock climbed $12.72 to $226.71 just after 10 a.m. in New York, its biggest intraday gain since April 23… (Read more.)
Boeing's (NYSE:BA) 787 can't seem to stay out of the news lately, but the company is also facing difficulty with its 747-8 freighter jet. The company's biggest and most expensive plane has suffered from a worldwide drop in long-haul cargo shipments, and Boeing has had to put some of the planes in storage while slowing their production rate as well… (Read more.)
Google (NASDAQ:GOOG) has settled a shareholder lawsuit and is now in the clear to issue a new class of stock that will allow the founders to maintain control over the company while having stock to sell that will help bring in currency for acquisitions… (Read more.)
General Electric (NYSE:GE) is investing in the production of ceramic-based parts for its jet engine business in an attempt to reduce maintenance and fuel costs. Small-scale production of one part will begin as early as next year in GE Aviation's planned Asheville, North Carolina factory… (Read more.)
Smithfield Foods (NYSE:SFD) is being urged by activist investor Starboard Value to break up rather than accept a buyout offer from Chinese meat producer Shuanghui International, saying a breakup would give the company greater value. In a letter written to Smithfield cited by The New York Times, Starboard said the company would be worth much more than the $34 a share being offered by Shuanghui if the company split into hog production, pork, and international units and sold those businesses separately… (Read more.)
Don't Miss: Google Starts Testing Project Loon.