Google Stock Breaks Record, GE Reports Order Backlog: Morning Buzzers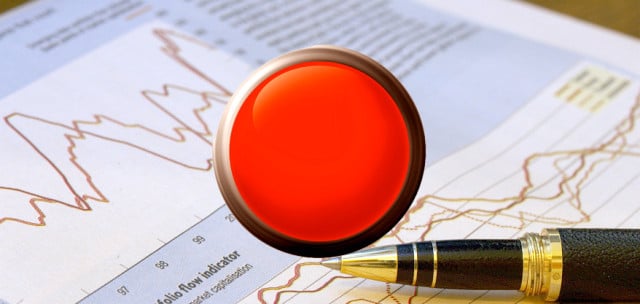 U.S. stock futures rose on Friday morning as data showed the Chinese economy expanded for the first time in three quarters. Investors are optimistic that the Federal Reserve will not start cutting stimulus soon due to the government shutdown caused by lawmakers's inability to reach an agreement on the budget. The shutdown ended on Wednesday evening, just a day before the U.S. was set to lapse on its borrowing authority.
Futures at 8:30 a.m.: DJIA: +0.19% S&P 500: +0.27% NASDAQ: +0.15%
Here's your cheat sheet to what's buzzing this morning:
General Electric (NYSE:GE) reported third quarter earnings on Friday morning, saying that profit and revenue fell while earnings topped expectations by a penny and the company boasted a record backlog of orders, according to Reuters. GE's earnings rose at six out of seven of the company's industrial businesses, but its shrinking financial arm took a bit of a toll on the company's report. Shares are up in pre-market trading as the market is feeling optimistic about GE's increased orders across its portfolio of industrial goods.
Morgan Stanley (NYSE:MS) reported a 50 percent increase in revenue when the bank reported earnings on Friday morning, Reuters reports. Though the company posted a drop in its fixed income business, gains in equity sales and trading more than made up for them. Morgan Stanley's earnings came in at 50 cents a share and net income was $888 million. In the third quarter of last year Morgan Stanley posted a loss of $1 billion, or 55 cents a share.
Google (NASDAQ:GOOG) shares are up 9.6 percent in pre-market trading on Friday morning after already reaching an all time high in after hours trading on Thursday evening after reporting third quarter earnings that beat expectations. Strength in Google's search business, which makes up 92 percent of the company's overall business, was credited for the growth, according to CNNMoney. Earnings came in at $10.74 per share and sales grew 12 percent year over year to $14.9 billion. Google still showed losses in its mobile search and Motorola businesses.
BlackBerry (NASDAQ:BBRY) has reportedly gained some interest from the Chinese electronics company Lenovo (LNVGF.PK), although sources are differing on whether Lenovo's interested in purchasing BlackBerry as a whole or just parts. The Wall Street Journal reported that Lenovo is interested in buying all of BlackBerry, but Reuters has said that the Chinese company would face too much regulatory scrutiny, particularly in regards to BlackBerry's secure network. Reuters reported that Lenovo would more likely get BlackBerry's handset business, while a North American buyer would be better suited for BlackBerry's network.
Follow Jacqueline on Twitter @Jacqui_WSCS
Don't Miss: Is the Pressure Off Google Now?