Government for Ransom: President Obama Refuses to Play Ball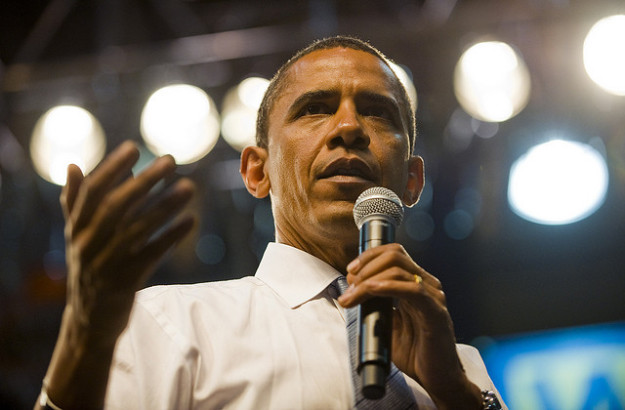 President Barack Obama painted a grim picture of the real-life effects resulting from the government shut down in his weekly address, and urged Congress to do "the right thing" and push a budget through to end the shutdown.
Going on its fifth day, the government continues to find itself at a standoff — with guns on ObamaCare, the spending bill, the medical device tax, and a raised debt ceiling. However, as the president pointed out early this morning, legislative workings are not the only entities staring down the barrel of this particular shotgun.
"The American people don't get to demand ransom in exchange for doing their job. Neither does Congress. They don't get to hold our democracy or our economy hostage over a settled law," said President Obama in a press release from the White House's  Office of the Press Secretary.
According to the Office of Management and Budget,  the 1995 shutdown resulted in a $2.0 billion cost to taxpayers when adjusted for inflation, Though that shutdown lasted twenty-six days in two segments — much longer than our current shutdown has continued — it does suggest that this incident could be costing taxpayers almost $100 million a day. A plethora of employees furloughed everywhere from National Parks, to production of passports, to various other government programs will likely receive back pay.  This constitutes a necessary, but ultimately very costly, expense.
In his weekly address President Obama lists just a few "services disrupted"  and "benefits delayed," including Head Start services to children, the direct lending program provided by the USDA for buying homes, commissary closures on military bases, contract holds for business owners, and the potential cessation of veteran services. In danger of soon being added to this list of disruptions are the Women, Infants and Children (WIC) program — a service for underprivileged mothers and children — and the Temporary Assistance for Needy Families (TANF) welfare program.
President Obama also makes mention of the debt ceiling, stating that "as reckless as a government shutdown is, an economic shutdown that comes with default would be dramatically worse," requesting that Congress "Pay our bills," and "Prevent an economic shutdown."
In a debt limit letter sent to Congress by Treasury Secretary Jacob J. Lew on the first of this month,  Lew stated that the final "extraordinary measures will be exhausted no later than October 17, 2013." In this same letter, he urges Congress to raise the debt ceiling, noting that the U.S. would be left on that day to pay net expenditures reaching as much as $60 billion with a mere $30 billion.
With the President clear on his intent to remain stolid in the face of Republican pressures and aim for a clean spending bill, he implores Speaker John Boehner to give the bill a yes-or-no vote.  At present this seems an unlikely move due to Republican Party pressure.
Don't Miss: 5 Vital Steps to Protect Your Finances from Government Shutdowns.