Government Shutdown Helps Jobless Claims to 6-Month High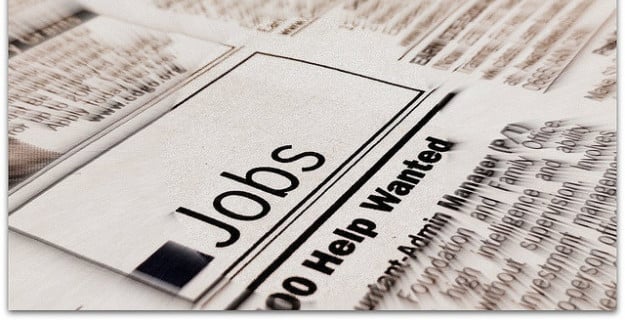 Thanks to a huge backlog of applications in California and the government shutdown, initial claims for unemployment benefits spiked in the week ended October 5, increasing by 66,000 to a seasonally adjusted 374,000 — a six-month high. To provide context, initial jobless claims only rose by 1,000 applications for the week ended September 28 to a seasonally adjusted 308,000, while initial claims dropped 5,000 for the week ended September 21 to a seasonally adjusted 305,000, a nearly six-year low. Economists expected claims to rise to just 310,000.
Of last week's new claims, 15,000 were filed by nonfederal workers — employees of federal contractors, for example — affected by the partial government shutdown, according to an analyst from the Department of Labor. Claims filed by furloughed federal workers will be tallied in a separate category. Nevertheless, the government shutdown will continue to have an effect on the numbers. "Claims are likely to be distorted for some time," Raymond James chief economist Scott Brown told Bloomberg. "Private firms are stepping back. Given all the uncertainty, they are unlikely to hire."
The fact that the Bureau of Labor Statistics's jobless claims data is the only government report being published during the government shutdown shows the importance of the those numbers to government economists and the Federal Reserve.
Jobless claims provide the first look at the employment situation for any given month, but since the weekly figures can be volatile, economists use the four-week moving average to understand wider trends. Last week, the figure jumped 20,000 to 325,000. For much of the past two months jobless claims have been trending down, which "suggests ongoing labor-market improvement," as TD Securities strategist Gennadiy Goldberg said after the September 26 report.
But last week's spike sent the four-week moving average up from a six-year low; at 305,000, first-time claims were at their lowest level since May 2007, seven months before the recession began.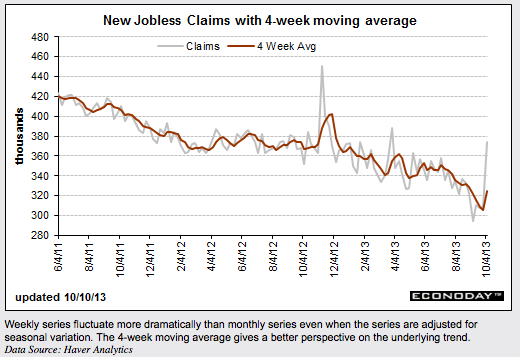 Improvements in jobless claims are often hard to see on a week-by-week basis. In the week ended September 21, the total number of people claiming benefits in all programs was 4,028,411, an increase of 25,956 from the previous week. While that was third consecutive increase in that metric, it is still below year-ago levels. There were 5,044,649 people claiming benefits in all programs in the comparable week in 2012. Other unemployment data have been steadily increasing for the past several weeks, as well, but that trend has switched direction, if only temporarily.
The number of people continuing to receive jobless benefits decreased by 116,000 to 2.91 million in the week ended September 28. Also, those individuals who have used up traditional benefits and are collecting emergency and extended payments dropped 27,500 to 1.44 million in the week ended September 21, the most recently available data.
Of course, initial claims data — which serves as a proxy for layoffs — is only one part of the story. Recent numbers indicate that employers are refraining from firing workers. Fewer layoffs mean that companies have pared their workforces about as much as possible, which puts employers in position to boost payrolls should business improve.
A strengthening labor market is necessary to end income growth stagnation and spur consumer spending, which accounts for about 70 percent of U.S. gross domestic product. But employers are still behaving as they did during the recession, keeping their workforces — and therefore labor costs — as low as possible. "Companies are lean and mean, but the hiring that usually goes along with claims like these just isn't happening," Maria Fiorini Ramirez, chief economist Joshua Shapiro, told Bloomberg last week. "The claims data are flashing a much stronger signal" than other data like payrolls, she added.
While jobless claims trended down throughout September, how these fewer applications for unemployment benefits compared to job creation is unknown. Because of the shutdown, the Labor Department did not release the September Employment Situation Report. In its absence, economists have estimated that employers added 180,000 new jobs to their payrolls last month. But other data point to an even lower figure.
According to payroll processor ADP's National Employment Report, employers added 166,000 jobs in September, a sign to Moody's Analytics chief economist Mark Zandi that "the job market appears to have softened in recent months" and that "fiscal austerity has begun to take a toll on job creation." Still, "while job growth has slowed, there remains a general resilience in the market," he said to Bloomberg. "Job creation continues to be consistent with a slowly declining unemployment rate."
The general tenor of ADP's jobs report was that the labor market struggled to make progress in the past month. Even though September's increase in payroll additions was greater than the previous month's gain, job growth is weakening. ADP's data show that over the past three months, the economy has added an average of just 162,000 private jobs per month, which compares to 220,000 at the beginning of the year.
When Department of Labor statistics are used instead, the numbers are even worse. Job growth averaged 148,000 jobs per month over the past three months and 224,000 at the beginning of the year. According to Brooking's Hamilton Project, at the rate of 162,000 job additions per month, it will take seven years to fill the so-called jobs gap left by the recession. At the pace of 148,000 job additions, it will take eight years and four months.
"The labor market is not weak but not as strong as we'd like," Raymond James & Associates chief economist Scott Brown said to Bloomberg. "There's a lack of traction. It's a sign things have slowed down a bit in the economy."
Follow Meghan on Twitter @MFoley_WSCS
Don't Miss: 3 Things Everybody Should Know About Janet Yellen.