Government Shutdown May Delay Boeing Dreamliner Approval and 2 Other Dow Movers to Watch
The Boeing Co. (NYSE:BA): Current price $117.50
As if there have not been enough problems, the looming United States government shutdown might pose a threat to the expected certification of Boeing's new, bigger Dreamliner, along with other aircraft ready to be delivered to airline customers. Through an e-mailed statement on Monday, the Federal Aviation Administration said that it will delay "all aircraft certification" depending on the duration of the shutdown. Aircraft certification workers are among the 15,514 FAA employees who will be furloughed at midnight if Congress does not reach an agreement to extend government funding.

E.I. DuPont de Nemours & Co. (NYSE:DD): Current price $58.64
The National Safety Council has presented its 2013 Robert W. Campbell Award to DuPont, honoring the firm's commitment to the environment, health, and safety as part of its everyday operations. Award recipients are selected based on a comprehensive examination of their organization's environment, health, and safety management system, and its impact on the bottom line. DuPont will participate in the Campbell Award's ongoing educational endeavors, including development of a case study providing its best practices for use by top business and engineering schools.

Merck & Co. (NYSE:MRK): Current price $47.50
In recognition of World Rabies Day, and in an attempt to lower the number of persons dying from the disease, Merck Animal Health is proud to support canine rabies vaccination programs in some of the most at risk regions on the planet. To date, over one million doses of veterinary rabies vaccine have been donated in the effort to eliminate the risk to human health in these regions.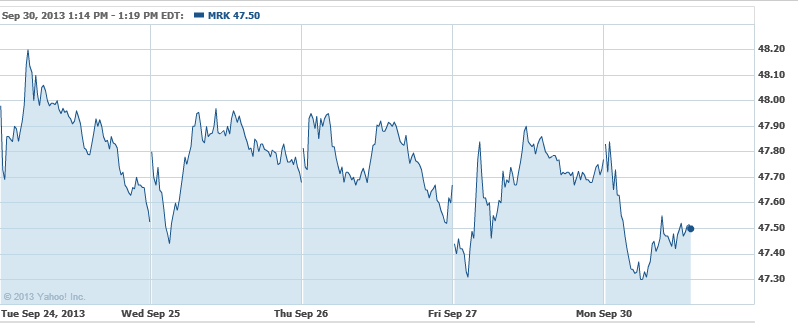 Don't Miss: This Union Isn't Happy With DoJ Suit Against American-US Airways.