Gov't Protests Wal-Mart's Response to Black Friday Strike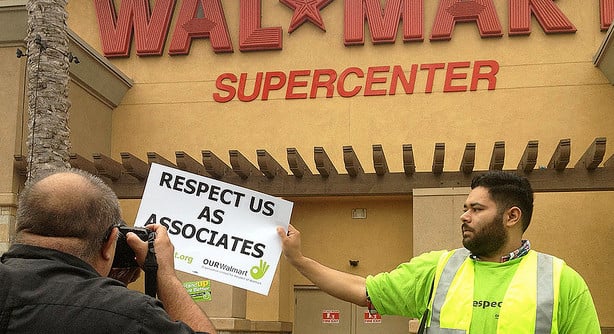 A formal complaint filed Wednesday revealed that Wal-Mart Stores (NYSE:WMT) may be navigating legal drama in the near future on account of its actions in response to a strike in 2012 orchestrated by union-backed group OUR Walmart. Black Friday has long been a big day for retailers, but it was an especially epic — and not in a good way — day for Wal-Mart in 2012 ,when workers across 46 states walked off the job and participated in legally protected activities to campaign for higher wages and better working conditions.
One year later, the dust has settled, but Wal-Mart may still face consequences for the way it responded to its employees' actions in 2012. The Associated Press reported Wednesday that federal officials filed a formal complaint this week, charging the nation's largest retailer with violating the rights of workers and illegally firing, disciplining, or threatening its employees who participated in the Black Friday strike.
The National Labor Relations Board is the group responsible for writing the complaint, and it reports that it has worked with Wal-Mart since November to come to a settlement, but its efforts thus far have proven futile. That is why the NLRB is finally coming forward and requesting support from an administration law judge, alleging that in 2012, Wal-Mart executives not only illegally disciplined participating employees but also served threats such as the one reportedly made by David Tovar in November 2012, when he went on CBS News and said there would be "consequences" for workers who took part in strikes and protests ahead of Black Friday.
Wal-Mart has been notified of the complaint, but has continued to stand by its actions. Wal-Mart spokeswoman Brooke Buchanan said to the Associated Press: "We now have the opportunity to present the facts of these cases in front of a judge. No reasonable person think it's ok for people to come and go from their scheduled shift without being held accountable."
The news service reports that Wal-Mart has until January 28 to respond to the NLRB's complaint, and then the case will go before an administrative law judge. Both companies can still try to work out a settlement moving forward, but if Wal-Mart is charged with any wrongdoing, its affected workers could see awards of pay, reinstatement, and a reversal of any disciplinary action. Wal-Mart employees have long campaigned for higher wages, with many claiming that most associates are paid an unlivable wage of less than $25,000 per year, but so far, their efforts have proven fruitless.
Wal-Mart workers struck on Black Friday again in 2013, although the number of participating employees was not as significant. Wal-Mart has shown no hesitation about letting disgruntled employees go, but the NLRB alleges that the company illegally fired 19 workers on account of their participation in the 2012 strike. The complaint also states that Wal-Mart unlawfully threatened, disciplined, or terminated workers for participating in strikes and protests in California, Colorado, Florida, Illinois, Kentucky, Louisiana, Maryland, Massachusetts, Minnesota, North Carolina, Ohio, Texas, and Washington.
More from Wall St. Cheat Sheet: