Groupon Downgraded and 2 Other Hot Stocks To Watch
Groupon (NASDAQ:GRPN): Current price $6.51
Shares of Groupon have been lowered by TheStreet Ratings from Hold to Sell. The ratings firm observed that weaknesses are visible in a number of areas, such as its weak operating cash flow and an overall "disappointing historical performance in the stock itself." More specifically, net operating cash flow has notably fallen to $8.76 million or by 89.53 percent year-over-year from 2012. Furthermore, compared to the industry average, Groupon's growth rate is far lower.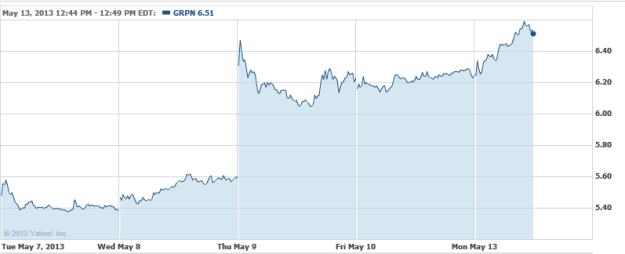 Warner Chilcott (NASDAQ:WCRX): Current price $19.07
On Friday, shares pooped by 20 percent on chatter that the firm was in discussions to sell itself to larger competitor Actavis (NYSE: ACT). Not exactly slowing the stocks down was the fact that Warner also posted steady earnings, when a decline had been anticipated, and reiterated full-year guidance. As for the possible sale, the parties initially would not comment on the speculation, but later, Actavis finally affirmed that it "has entered into early-stage discussions with Warner Chilcott plc regarding a potential combination of the two companies."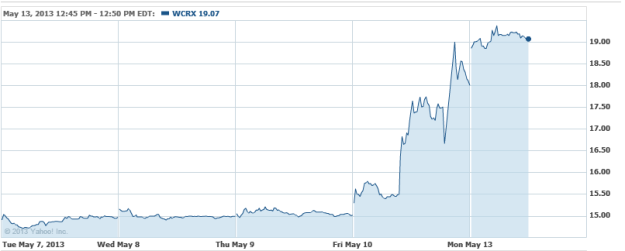 Microsoft Corporation (NASDAQ:MSFT): Current price $32.81
TheStreet reports that Microsoft's ex-dividend date is Tuesday, May 14, 2013. Owners of shares at the close on Monday will be eligible for a dividend of 23 cents per share. The dividend yield is 2.8 percent at the price of $32.62 as of 9:31 a.m. Eastern Time. During the past 30 days, the average volume for Microsoft has been 51.1 million shares per day. Thus far in 2013, the stocks are up by 22.3 percent year-to-date as of the close on Friday.

Don't Miss: Does Mark Zuckerberg Have Plans to Attack Cisco?