Groupon Gets Major Boost After This Upgrade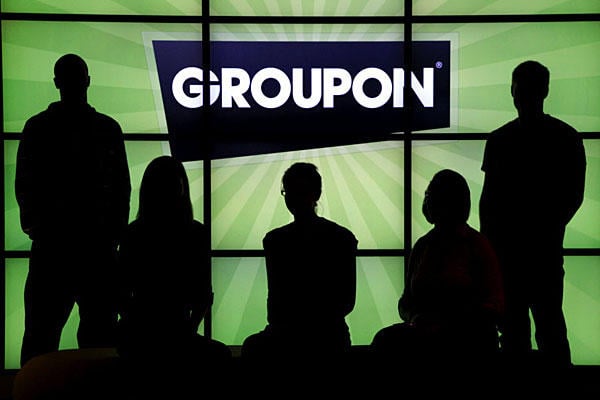 There are some believers in Groupon (NASDAQ:GRPN) after all. Bloomberg reported Friday that Deutsche Bank (NYSE:DB) sees potential for the company in its new strategy and upgraded its stock to a "buy" rating earlier that day, which led to a major boost for the purveyor of daily deal coupons. When the close of Friday's trading arrived, Groupon stock had risen nearly 12 percent. Analysts at Deutsche Bank like the company's mobile app and its shift away from bombarding customers with deals.
"Groupon is surprisingly the most mobile-penetrated e-commerce company we track," analyst Ross Sandler wrote in his report. The evidence he supplied was convincing: on top of 7 million downloads of the app in Q1 2013, 45 percent of the company's business came via mobile users in March. Sandler's report went on to describe Groupon's effort as "one of the best plays on mobile in the Internet space."
Just as important to Deutsche Bank's analysts was Groupon's emphasis on pulling customers toward it by focusing more on the deals themselves and less on pitches to those who had snatched them up in the past. Targeting customers by region also proved to be a successful strategy. Friday's 12 percent jump was impressive following the upgrade, yet Groupon stock has been on a roll all year.
Groupon has gained 57 percent in 2013 after bottoming out in mid-December of last year. Deutsche Bank sees even more room for improvement and raised its target price to $10 (it closed Friday at $7.65). Sandler sees big things in the coming years, with $3.56 billion in earnings in 2015, an increase in projections of more than half a billion dollars.
Groupon is looking to increase its international business as well. The company acquired a payment processor that could speed credit card transactions on mobile devices, which will help grow its mobile business. Still, some analysts see the daily deal market as treacherous to navigate in a world full of fatigued audiences.
"The mobile app won't solve the fatigue problem," said Erik Gordon, who is a professor at the University of Michigan. Gordon sees mobile as Groupon's best chance. "Email is slow and clunky and easy to ignore," he told Bloomberg. "Mobile apps are fast and easy."
Don't Miss: Gun Control Hoopla? Stocks Couldn't Be Happier.