Groupon Sees One Million G-Pass Customers and 2 Other Hot Stocks to Watch
Groupon (NASDAQ:GRPN): Current price $7.73
On Friday, Groupon said that since the beginning of its G-Pass ticketing system in April of last year, one million Groupon customers have been able to bypass box office lines and go directly into venues for events of their choice. The G-Pass affords purchasers direct admission to events, so that they need not wait in long lines at box offices to pick up their tickets first. Groupon Vice President and General Manager Greg Rudin said: "Perfecting the customer experience is always a top priority Groupon. G-Pass simply allows customers to worry less about getting into the venue and focus more on enjoying the event. And at the same time, it helps alleviate stress on box office partners."

Elan Corporation (NYSE:ELN): Current price $13.55
Elan said Friday that it is moving forward with a formal sale process due to the expressions of interest received thus far. Through this process, Royalty Pharma will be invited to participate should they desire, but shareholders are being urged not to tender into the present Royalty Pharma hostile offer. As previously reported, Elan's board and management are dedicated to maximize the full value potential of the business on behalf of its shareholders, and will update the market as deemed appropriate. Financial advisors for Elan are Citigroup, Davy Corporate Finance, Morgan Stanley, and Ondra Partners.

Himax Technologies (NASDAQ:HIMX): Current price $5.48
The supplier and fabless maker of advanced display drivers and other semiconductor products, has announced the pricing of an offering by selling shareholder Innolux Corporation of 22,086,742 American Depositary Shares. Each represent two ordinary shares of the firm, at a public offering price of $5.25 per ADS. Innolux will allow the underwriters a 30-day option to buy as many as 3,313,011 additional ADSs solely to cover any over-allotments. The offering should close on June 19. It was also said that Himax will not receive any proceeds from the sale of the ADSs by Innolux, and that the sale of the ADSs will not result in dilution of the firm's outstanding shares.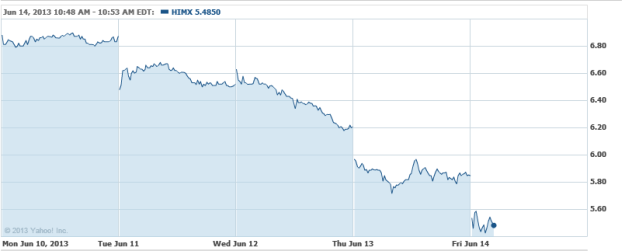 Don't Miss: 3 Ways Baby Boomers Are Redefining Retirement.