Groupon Stuck in DOWNWARD Spiral
Groupon (NASDAQ:GRPN) features daily deals on various things to do, see, eat and buy in 48 countries. Shoppers can find great discounts on everything from a weekend getaway in Las Vegas to a Himalayan Ionic Natural Salt Lamp. However, stock in the Chicago-based company is the item being offered at a dramatically reduced price today.
Shares of Groupon (NASDAQ:GRPN) were clipped 26 percent Tuesday after reporting financial results for the second quarter. Net income came in at $28.4 million, compared to a net loss of $107.4 million a year earlier. It was Groupon's first-ever quarterly profit as a public company, but not enough to dampen slowing growth fears. The company reported that revenue grew 45 percent from last year to $568 million, falling short of the average estimate of $578 million. A new segment called Groupon Goods, which involves the company selling items itself, boosted results due to accounting methods. If Groupon (NASDAQ:GRPN) recognized the item sales in the same manner as the daily deals, revenue growth would have been 30 percent, according to AP. Analysts were expecting revenue growth of 46 percent.
Don't Miss: Are These Votes of Confidence in Facebook?
Revenue compared to the first quarter increased just 2 percent. Meanwhile, second quarter billings, which is the total amount of money Groupon receives before paying merchants, decreased 5 percent. North American growth remained strong, but currency fluctuations and the European financial crisis impacted results. Andrew Mason, co-founder and chief executive officer, explained on the conference call, "Weakness in our European markets, which comprises the majority of our international business today, created a significant drag on performance with over $70 million of impact on gross billings quarter-over-quarter."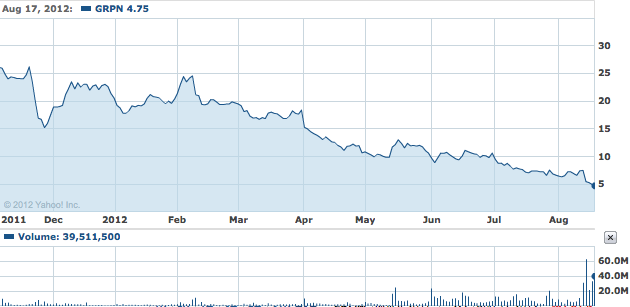 Although Groupon shares were down sharply this past week, it does not necessarily mean they are a good deal. As the chart above shows, the company has been in a downward death spiral since going public last November. Groupon's initial public offering priced at $20 a share, but has since joined other internet busts such as Facebook (NASDAQ:FB), Zynga (NASDAQ:ZNGA) and Pandora (NYSE:P). On Friday, Groupon shares hit a new record low of $4.51.
The outlook for Groupon is also failing to provide relief for shareholders. For the third quarter, the company expects revenue between $580 million to $620 million. The midpoint was below the $605.5 million expected by analysts. Furthermore, Groupon said income from operations for the quarter would be $45 million to $65 million, below expectations of $70 million to $80 million by Wall Street. "It seems like they don't have enough control over various aspects of their business," said Sameet Sinha, an analyst at B. Riley & Co., according to Reuters. "Will they be able to fix the situation by the end of this year? If not, we could see a very significant slowdown in growth in 2013."
Investor Insight: Here's How to Invest Like Paul Ryan