Groupon Wants to Profit from All Your Food Pics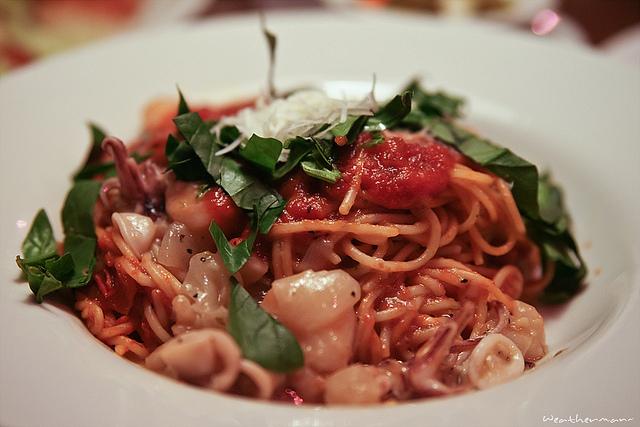 A spokesperson from Groupon (NASDAQ:GRPN) on Tuesday confirmed to VentureBeat that the popular daily deals company has purchased Plumfare, an app that allows users to take pictures of a dish they are eating at a restaurant and gift that same item to a friend via social media, text, or email.
Plumfare was designed to take advantage of the popular practice of taking pictures of the food diners eat — whether cooked at home or served at a restaurant — and sharing them via social media. Users can send their friends gifts of a particular menu item at their favorite restaurant by sending them a photo of the item using Plumfare, and they're only charged for the item once the friend has redeemed the "gift."
Plumfare announced it was being acquired on its website, but strangely didn't say by whom; VentureBeat was able to get a confirmation on the acquisition from a Groupon spokesperson. Plumfare said that all existing gifts would be honored, but new gifts could not be purchased until the acquisition is complete. Plumfare said of the acquisition on its site: "For us, it's an opportunity to take the work we've done and apply it more broadly. For our users, it means tons of new merchants and gifts!"
Plumfare will likely take advantage of Groupon's large network of services and retailers to apply the same photo-sharing philosophy to more than just dining. Groupon will use its acquisition of Plumfare by offering another way for discount-hunters to find a bargain on eating out.
Groupon posted better-than-expected earnings report last week, with a 7.1 percent increase in sales and a loss smaller than forecast. The company also recently named Eric Lefkofsky as its new CEO. Groupon has struggled with the transition to mobile, but Lefkofsky's new position along with a recent purchase of daily deals mobile app Glassmap have restored many investors' confidence in the company.
While Plumfare hasn't confirmed it's been purchased by Groupon, it made a promise that, "In time for the holiday season 2013, we'll let you know about some cool new gift options developed with our new friends," a tantalizing prospect for people looking for the best holiday deals.
Follow Jacqueline on Twitter @Jacqui_WSCS