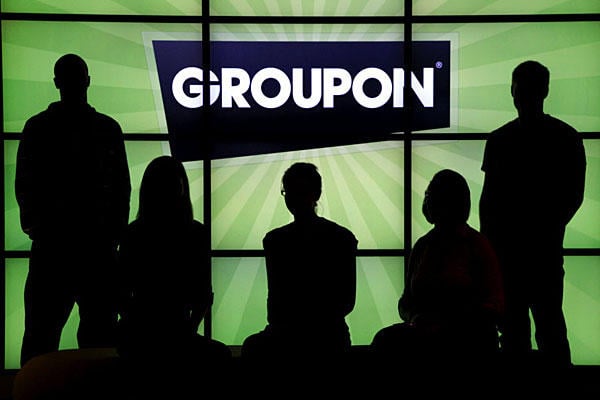 Groupon (NASDAQ:GRPN) is testing out the waters of some new territory, and Chicago and San Francisco consumers are the ones reaping the benefits. The Chicago, Illinois-based company has long been known for its appealing deals that it offers to customers through alliances with companies and retailers, but now Groupon is testing out a pilot program that involves helping small retail stores sell off their excess inventory. Re/code's Jason Del Rey reported on rumors of the pilot test earlier this month, and now it looks like those rumors are proving true. Del Rey reported Friday that Groupon is now experimenting with its program in Chicago, and also in the San Francisco Bay Area, and he still is standing by his explanation. "Under the new business, Groupon customers would order a product from a local store through Groupon.com or through a mobile app and then pick it up at the retail location."
Faced with continued competition from rivals like LivingSocial, it's not unexpected that Groupon would try its hand at new ventures, and it refers to its latest one as "Local Pickup deals." Re/code reports that these deals expire more quickly than regular Groupon offers, but the retail bargains are still expected to be attractive options for both cost-conscious shoppers and small retailers. The inventory that is offered at bargain prices on Groupon is that which the retailer has already struggled to sell at full price, and would have otherwise gone unsold, but its feature on Groupon helps retailers reach the audience they are looking for. 

It is not yet confirmed whether the "Local Pickup deals" experimentation will expand throughout the rest of the U.S., but if successful, many consumers and retailers may be poised to reap the benefits. Groupon spokesperson Paul Taafe told Re/code that the "deals are a pilot that connects our Goods business to our Local business" and that, "They are still under test as we work through what works best for local businesses and customers."
Groupon has made a number of changes within the past year in order to expand its e-commerce business, but its biggest news came back in November when the company celebrated its fifth birthday with a redesigned website and mobile app. The daily deals website recognized early in the fall that its mobile and desktop platforms needed a facelift, and its efforts seemed to pay off, as the company scored its biggest holiday weekend after Thanksgiving.
Groupon has continued to square off with rival LivingSocial but it has continued to maintain a significant lead on its competitor, especially after investors learned earlier this month that LivingSocial's CEO Tim O'Shaughnessy is planning to step down from the position later this year. Faced with stagnating sales and increasing competition in the online coupon industry, it has been speculated that LivingSocial is struggling to keep up with the growing clout of Groupon, and Groupon's latest venture coupled with O'Shaughnessy's departure may only now make it stand apart from the crowd even more.
Groupon's latest experiment also deviates from its core deals business because the new deals don't require that a certain number of people jump on them for them to go into effect. This could prove to be a trial run for Groupon's newest strategy in the future, or the system could simply be reserved for "Local Pickup deals" because retailers are simply looking to sell whatever excess inventory they can. However, whatever the case, it is now clear that Groupon's future is finally looking bright again, even if the same can't be said for LivingSocial's.
More From Wall St. Cheat Sheet: