Growing Pains: Coal Stocks Shift With Natural Gas Prices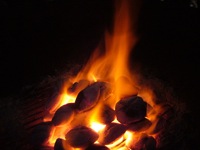 Coal stocks have experienced a series of gains since early October. Coinciding with remarks candidate Mitt Romney made at the first presidential debate on October 3 and spurred by a recent high in natural gas prices, James River Coal (NASDAQ:JRCC), Alpha Natural Resources (NYSE:ANR), Arch Coal (NYSE:ACI) and Peabody Energy (NYSE:BTU) were all up over 19 percent through October 11.
This break has brought some bullish attention to stocks otherwise suffering. For the year to date period ending October 11, the four companies dropped between 25 and 60 percent. Low natural gas prices, regulatory issues, and a trend toward natural gas consumption over coal have cut into the industry. Reuters reports a fresh batch of downgrades and earnings estimate cuts for Peabody and ANR. The report points out that coking coal prices have fallen $65 per metric ton since July.
Catalysts are critical to discovering winning stocks. Check out our newest CHEAT SHEET stock picks now.
On October 12, many coal stocks are giving up some of the gains they acquired over the past few days. In afternoon trading, Arch Coal is down 3.5 percent, Peabody is down 2.4 percent and ANR has fallen 7.2 percent. JRCC, after closing up about 18 percent on October 11, is actually rising again, up 1.8 percent in the afternoon.
The United States has put natural gas in the spotlight the last few years. Regulatory tensions keeps the fuel in the political domain, with environmental concerns split between the relative cleanliness of natural gas and potential risks of hydraulic fracturing. ConocoPhillips (NYSE:COP), BP (NYSE:BP) and Exxon Mobil (NYSE:XOM) have floated an idea involving a $45 to $65 billion project in Alaska that would ship liquefied natural gas to Asia. Automobile fleets across the country are starting to transition to the fuel. Despite the attention, there is still faith in coal.
In an interview with CNBC's Fast Money, Dennis Gartman said, "I think you're going to start to see coal prices move rather nicely, slowly, gently higher. This is not fast money. This is warm money." He's not the only one to make the case for coal.
Macquarie analyst Jeff Largey said in an interview with Bloomberg: "Coal still accounts for about 80 percent of the energy production in China and 45 percent in Japan and coal will remain the baseload for Japan even as it moves away from nuclear, so globally, it's not possible to get away from coal." The International Energy association expects coal use by power plants to increase by an average of 2.3 percent a year between 2009 and 2035.
The price of natural gas, which broke $3.60 per million BTU on October 11, will continue to have a dramatic influence on coal. There's no reason to expect the fuel to fall out of the market, but barring perpetual winter, natural gas prices are also likely to remain low.
Investing Insights: Natural Gas Futures Hit a New High – Coal Surges.