Guess Who's Coming to Sirius and 2 Other Heavily Traded Stocks
Pfizer (NYSE:PFE): Current price $28.64
Pfizer has announced that its new rheumatoid arthritis drug, Xeljanz, has been okayed for use in Japan by the Ministry of Health, Labor and Welfare, which cleared twice-a-day pill for use in patients whose symptoms have not improved after using at least one other disease-modifying drug. Those drugs are intended to delay the worsening of the disabling autoimmune disorder, instead of only relieving joint pain and inflammation.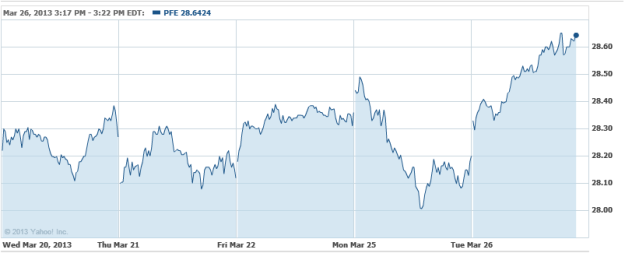 Intel Corporation (NASDAQ:INTC): Current price $21.64
Intel is reportedly nearing agreements with a number of media firms to show movies and television in its planned pay-TV service, according to Bloomberg. Sources relate that Intel is negotiating financial terms with Time Warner (NYSE:TWX), NBC Universal (NASDAQ:CMCSA), and Viacom (NYSE:VIAB), and is also starting talks with other companies, among which are News Corp. (NASDAQ:NWSA), owner of the Fox film and TV units, The Walt Disney Company (NYSE:DIS), and CBS Corporation (NYSE: CBS).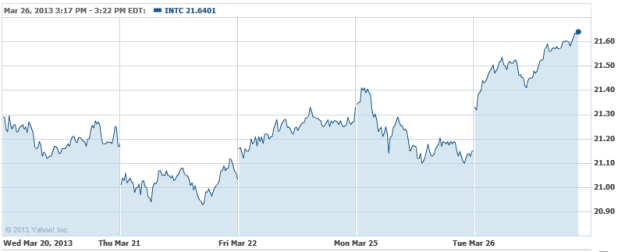 Sirius XM Radio (NASDAQ:SIRI): Current price $3.09
Sirius XM Radio has reached a deal to carry a new channel produced by Glenn Beck's media firm, theBlaze, featuring conservative talk shows and news programming that starts airing on Monday, reports Reuters. The new channel is the latest endeavor by Beck, a former Fox News talk show host, to grow his media company that has its beginnings on the Internet. Beck's radio show The Glenn Beck Program has been available on Sirius XM since May of 2010 but this is the first time his media company will have its own dedicated channel on Sirius XM.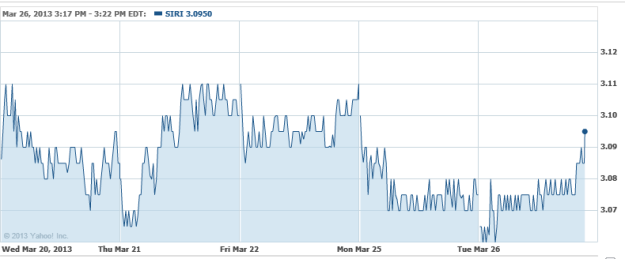 Don't Miss: Will Dendreon Continue to Plummet?