H-P Analyst Sees Spin-Offs Ahead and 3 Stock Analyses Not to Miss
Take-Two Interactive Software Inc. (NASDAQ:TTWO): Current Price: $13.64
According to Cowen, Take-Two continues to be the firm's top pick in the video game space after it showed better than expected Q3 results. The firm cited the company's strong cash flow, attractive fundamentals, and the upcoming console cycle. Shares have an Outperform rating.

Hewlett-Packard Company (NYSE:HPQ): Current Price: $16.77
After a business news outlet named Quartz reported that HP's board has begun to consider a possible break-up of its business units, Wells Fargo is convinced that the company will spin off relatively small units, but likely will not separate its PC or printer units. The PC unit benefits from HP's global reach and brand and HP benefits from the cash flow generated by both units, Wells reports, which keeps its Market Perform rating on the stock.

CH Robinson Worldwide Inc. (NASDAQ:CHRW): Current Price: $61.17
FBR Capital decided to increase its price target for C.H. Robinson to $80 after the company's Q4 results and it keeps its Outperform rating on the stock.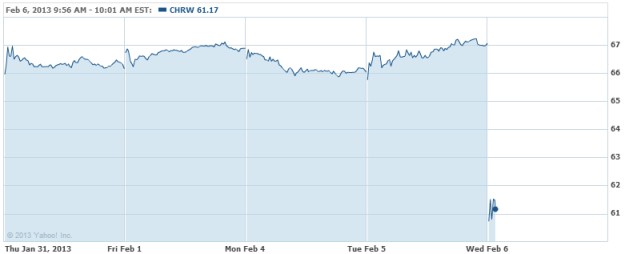 Allergan Inc. (NYSE:AGN): Current Price: $108.43
Allergan reported in-line Q4 adjusted EPS, but provided higher than expected FY13 EPS guidance ex items, influencing Bernstein to be upbeat regarding the guidance. The firm keeps its Outperform rating on the stock.